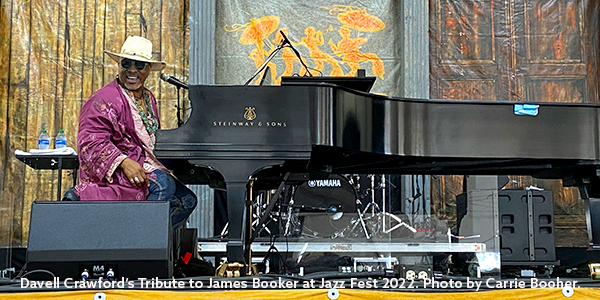 In the APRIL 2023 Issue of the 'OZone,
WWOZ's monthly newsletter:
Join Us: WWOZ Piano Night Happens Monday, May 1 | Listen: Jazz Fest Live Broadcast | How to Pick Up Your Brass Pass | LAB Award: Best Use of Digital Media | Listen: WWOZ's French Quarter Fest Broadcast | In Memoriam: Kidd Jordan | Show Host Profile: Sakura "D Rootzmaster" Kone | Recipe: Shrimp Piri-Piri | Quick Links
More 'OZ: Facebook | Twitter | Instagram | YouTube | Listen Live | Support 'OZ
---
Marcia Ball.
Photo by Marc PoKempner

WWOZ Piano Night, our flagship fund raiser and celebration of the New Orleans piano tradition, happens May 1, on Monday night between Jazz Fest weekends. This year 23 different piano players will take over the Music Hall main stage at the House of Blues, for a five-and-a-half hour long piano music spectacular! The line up: Marcia Ball, Jon Cleary, Oscar Rossignoli, John "Papa" Gros, Kyle Roussel, Lilli Lewis, Jesse McBride, Craig Adams, Keiko Komaki, Tom Worrell, Josh Paxton, Larry Sieberth, Al Lil' Fats Jackson, Mari Watanabe, Tom McDermott, Dr Courtney Bryan, Ricky Monie, Joe Ashlar, Armand St. Martin, Victor Atkins, Matt Lemmler, and Yoshitaka "Z2" Tsuji!

» Get your Piano Night Ticket or Sponsor a Piano Night Artist!
---
Kermit's Satchmo Tribute happens 5/7.
Photo by Michele Goldfarb

The New Orleans Jazz & Heritage Festival presented by Shell starts two weeks from Friday (can't wait!) on April 28 and runs through May 7. If you're not able to make it this year, or if you can't be there every day, remember that WWOZ will broadcast live from the WWOZ Jazz Tent, the Blues Tent, Economy Hall, Jazz & Heritage Stage, and the Gospel Tent presented by Morris Bart. Once the broadcast schedule is finalized, we'll post all the info on wwoz.org. Plan on tuning in for our award-winning Jazz Fest broadcast!
---
| | |
| --- | --- |
| | If you bought a Brass Pass for Jazz Fest 2023 (thanks much!) and did not select the FedEx shipping option, you can pick it up according to the schedule and instructions at the link below. Pick up dates include this weekend during French Quarter Fest at Louisiana Music Factory, 11am-3pm, Friday-Sunday. Remember that we no longer do pick up at the station; instead, the last distributions before Jazz Fest will be held NOON-5pm on Wednesday, April 26 and Thursday, April 27 at the New Orleans Jazz & Heritage Foundation on North Rampart, a much more accessible location. |
---
| | |
| --- | --- |
| | We are excited to share that WWOZ received top honors for Best Use of Digital Media at the Louisiana Association of Broadcasters Prestige Award Ceremony in Baton Rouge last month! Best Use of Digital Media recognizes the use of Facebook or Facebook Live, Twitter or Live Tweeting, Instagram, and other digital outreach tools by a station to connect with their audience and inform the public. Our members make this work possible--thanks to everyone out there who supports WWOZ. |
---

---
Andre Michot of the Lost Bayou Ramblers.
Photo by Stafford

Tune in each day of French Quarter Fest (Thursday, April 13-Sunday, April 16) to hear live sets from 11am-8pm CT. The broadcast will be anchored by some of your favorite WWOZ show hosts. You'll hear a whole bunch of Louisiana favorites, including Irma Thomas, Kermit Ruffins, the Lost Bayou Ramblers, Amanda Shaw, Samantha Fish, Bonerama, Tricia Boutte, Chubby Carrier, Corey Ledet, Erica Falls, Big Chief Monk Bourdreax and many more.
---
Kidd Jordan in 2019.
Photo by Marc PoKempner

We're sad to report that legendary avant-garde saxophonist and educator Edward "Kidd" Jordan died on April 7 at the age of 87. Jordan was born in Crowley, Louisiana and grew up listening to zydeco and blues. He took up the saxophone in high school and was greatly influenced by Charlie Parker and Lester Young. Jordan's career included collaborations with an impressive array of musicians, including Alvin Batiste, Marshall Allen, The Hawkettes, Ornette Coleman, Stevie Wonder, Joe Turner, and Sun Ra. Jordan was also a beloved educator whose career started at Bethune High in Norco, LA and included several decades at Southern University, where he served as head of the jazz studies program. He also founded the Louis Armstrong Jazz Camp and the Don "Moose" Jamison Heritage School of Music.
---
D Rootzmaster.
Photo by Beth Arroyo Utterback

While most of us sleep in the wee hours of Wednesdays, D Rootzmaster sits at the board in the WWOZ studio, connecting listeners, musicians, and poets from all over the world. For the past 13 years, his show (Wednesdays, Midnight-6am) has blended together blues, reggae, ska, jazz, R&B, highlife, African pop, and more. His show also draws on his lifelong love of music and his years as an agent and manager of African acts like the Mandators. Despite the years of travels, and many years living in California before he returned to New Orleans just after Katrina, this son of Lake Charles says, "I still consider myself a country boy."
---
| | |
| --- | --- |
| | This recipe has a Portuguese-SE African history, combining European ingredients like olive oil and garlic with fresh prawns and dried chiles native to coastal east Africa. It's Mozambique's national dish. It's also not for the faint of palate: it's quite hot, containing as it does a rather large amount of ground dried chiles. |
---

Air time:
Wednesday, March 23, 2022 - 8:45am