Thanks for supporting WWOZ! As a WWOZ member, you are part of our family of Guardians of the Groove, keeping New Orleans music going strong on WWOZ's airwaves 365 days a year!
A couple of notes:
--The gifts pictured below are for new members beginning September 2021.
--Krewe of Roux member gifts won't be shipped until 5 monthly payments have been received.
--We're sorry that we won't be issuing a compilation CD this year.
If you'd like to make a donation by phone, please call 877-907-6999. Or mail us a check payable to WWOZ: PO BOX 51840, New Orleans, LA 70151
Make a one time or monthly donation: click here to support WWOZ.
Membership Levels and Gifts
Treehouse Level: $1,000 one time or $84/month
Reclining Festival Chair/WWOZ Flag combo
OR
Reclining Festival Chair/Tee Shirt/Baseball Cap combo
NOLA Flag Bearer Level:$504 one time or $42/month
WWOZ Headphones/Power Bank combo
Bass Drum Level : $360 one time or $30/month
Umbrella/WWOZ Flag combo
OR
Umbrella/Water Bottle combo
Snare Drum Level: $240 one time or $20/month
Pullover/WWOZ Flag combo
OR
Pullover/Water Bottle combo
Tuba Level: $150 one time or $12.50/month
T-shirt and Baseball Cap combo
Trombone Level: $120 one time or $10/month
WWOZ Flag
Saxophone Level: $100 one time or $8/month
WWOZ T-shirt
$90.70 Level: $90.70 one time only
Festing in Place Art Print
Trumpet Level: $70 one time or $6/month
WWOZ Ball Cap
All Members:
Discount Card & Bumper Sticker
---
WWOZ Logo Baseball Cap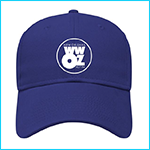 100% certified organic cotton washed twill; 6-panel, unstructured; matching sewn eyelets; self-fabric closure with brass slider and hidden tuck-in. The color is Royal Blue and the WWOZ logo is centered on the front of the cap with Guardian of the Groove centered on the back of the cap using white thread.p>
---
Festing in Place Art Print
Artist: Addison Howenstine
Media: Giclee on watercolor paper
Dimensions: 12"x16""
Limited Edition.
---
WWOZ Logo Tee Shirt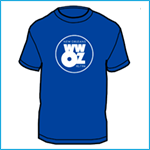 a Bella Canvas soft cotton tagless t-shirt. It is 52% ringspun cotton and 48% polyester. Very forgiving fabric. It is Royal Blue in color with WWOZ logo silk printed in white on the front and Groove of the Groove in silk printed in white on the back.
---
WWOZ Flag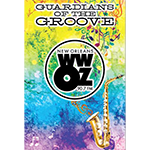 A high quality and durable fabric prints flag. The flag is a full color double sided with saxophone blowing musical notes. The flag dimensions are 2ft X 3ft and can be finished with either a pole pocket or grommets.
---
WWOZ Headphones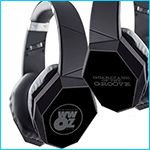 The headphones are wireless with omnidirectional bass, an advanced microphone, & 85% noise cancellation capabilities that deliver high-definition stereo sound. The headphone design has the WWOZ logo with a soft carrying case. There is a 33ft. range from your connected device and 10 hours of playtime. The headphones are black with the WWOZ logo one side and Guardian of the Groove on the other.
---
Long Sleeve Pullover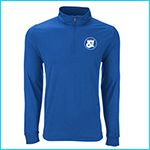 A fashioned sport pullover that pleases the mind and the body. It is 94% polyester/6% spandex with sanded finish. The WWOZ logo is embroidered on the front in white and Fashionable Sport Pullover is Royal Blue in color. The pullover is available is size Small - 5XL.
---
Water Bottle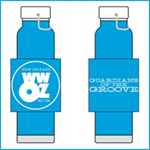 Durable, double wall stainless steel vacuum construction with copper insulation, which allows your beverage to stay cold for 48 hours and hot for at least 12 hours. The construction also prevents condensation on the outside of the bottle. Stainless steel screw on, spill resistant lid with durable stainless steel hand loop. Wide opening for comfortable filling and pouring. Perfect for ice cubes. Fits most standard car cup holders. 22oz. 10.59" H x 2.87" W x 2.87" L
---
Umbrella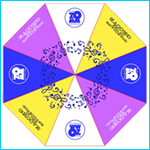 62″ arc, domestic golf umbrella with fiberglass shaft. It is yellow, purple, white and blue with the alternating Guardian of the Groove and WWOZ logo on the panels. There are musical notes at the top of the umbrella.
---
Wireless Power Bank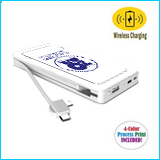 10,000 mAh power bank charges up to 2 full smart phones and runs a laptop. Features a built-in cable with multiple connectors, 2 USB ports to support wired charging and 2 input ports (for charging the power bank). The wireless power bank is white with a Royal blue WWOZ and Guardian of the Groove logo.
---
WWOZ Festival Chair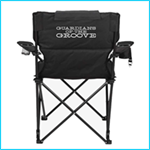 This WWOZ Reclining Sports Chair provides the durability you need with a steel frame that can hold up to 400lbs, and the added comfort of a padded design with three (3) adjustable reclining positions and a removable pillow. Includes a mesh cup holder, insulated cup holder, bottle opener and a study 600D carrying bag.. The WWOZ logo is on the front on the chair in white and the Guardian of the Groove is on the back of the chair in white.
---
All Members Get...
Discount Card & Bumper Sticker
For all donations $40 and up. Get great deals from local businesses.