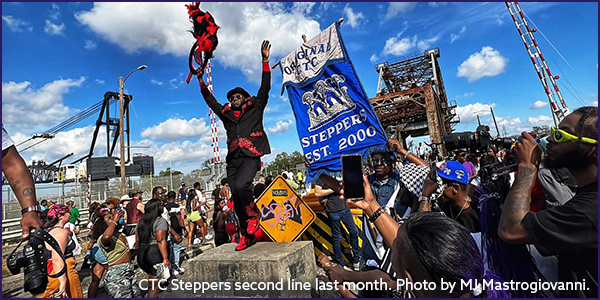 In the MARCH 2023 Issue of the 'OZone,
WWOZ's monthly newsletter:
Join Us for Piano Night, Monday, May 1 | We Can't Thank You Enough! | Mar 25-26: Treme Creole Gumbo + Congo Square Rhythms Festival | Tom Dent Congo Square Lecture | Big Weekend: Second Lines, Uptown Super Sunday & St. Joseph's Night | Volunteer Profile: Peter "Big Pete" Kastl | Recipes: "Maigre" Lenten "Gombo" from Lafcadio Hearn | Quick Links
More 'OZ: Facebook | Twitter | Instagram | YouTube | Listen Live | Support 'OZ
---
Jon Cleary.
Photo by Demian Roberts

The 2023 edition of WWOZ Piano Night, our flagship fund raiser and a festival season tradition among New Orleans music lovers, happens May 1, on Monday night between Jazz Fest weekends. This year 24 different piano players will take over the Music Hall main stage at the House of Blues, for five-and-a-half hours of piano music! The line up: Marcia Ball, Jon Cleary, Oscar Rossignoli, John "Papa" Gros, Kyle Roussel, Lilli Lewis, Jesse McBride, Craig Adams, Keiko Komaki, Tom Worrell, Josh Paxton, Larry Sieberth, Al Lil' Fats Jackson, Mari Watanabe, Tom McDermott, Dr Courtney Bryan, Ricky Monie, Steve Pistorious, Joe Ashlar, Armand St. Martin, Victor Atkins, Matt Lemmler, and Yoshitaka "Z2" Tsuji!
---
| | |
| --- | --- |
| | Big thank-yous to everyone who helped make last week's Spring Membership Drive a singular success. As ever, the first thank-yous go to WWOZ members, both new and renewing. Shout outs as well to our listeners, who comprise the world's most excellent audience, and a standing ovation for our Membership team, who made it all happen. Cheers to all the guardians of the groove! |
---
Hot 8 play Sunday, 3/26
Photo by Louis Crispino

It's a festing two-fer! The Treme Creole Gumbo Festival and the Congo Square Rhythms Festival will happen in Louis Armstrong Park and Congo Square on March 25 & 26. Both events celebrate the Faubourg Treme neighborhood as the birthplace of jazz and so much cherished local culture, and feature multiple performance stages and large local food and arts markets. The lineup includes Rebirth, Hot 8 and a ton of other brass bands, plus Higher Heights, Bamboula 2000, drum circles and Mardi Gras Indian battles. Admission to the park is free and open to the public. Can't make it in person? WWOZ will be broadcasting brass bands and more from the Treme Creole Gumbo stage on both days, at 90.7 FM in New Orleans and on wwoz.org. And our video team will be streaming highlights from the Congo Square Rhythms stage both days--check our Facebook page for live video of dancers, Mardi Gras Indians, and more! It's all presented by the New Orleans Jazz & Heritage Foundation.
---
Drum circle.
Photo by Katherine Johnson

The New Orleans Jazz & Heritage Foundation presents a Tom Dent Congo Square Lecture on the topic of stick-fighting dances of the Caribbean and early New Orleans. Stick-fighting dances were among the cultural practices that enslaved people of African descent perpetuated in Congo Square on Sunday afternoons, reflecting similar practices found in the parts of West and West Central Africa and the French and Spanish West Indies. This event happens Friday, March 24 at 5:30pm at the Ashé Cultural Arts Center on Oretha Castle Haley Blvd. Admission is free. It's followed at 7pm by a community dance event.
---

---
Red Flame Hunters, Saint Joseph's Night 2018.
Photo by Ryan Hodgson-Rigsbee

It's a big weekend on the streets of New Orleans! The Chosen Few Second Line Parade happens Saturday, March 18 at 1:00pm; Uptown Super Sunday happens March 19 starting at 11:00am; the Single Ladies Second Line Parade steps off on Sunday at 1:00pm; finally, Sunday's sunset marks the beginning of St. Joseph's Night. Get all the details from Takin' It to the Streets, WWOZ's multi-platform program celebrating New Orleans' social aid & pleasure clubs, second lines, Black Masking Indians, Baby Dolls, and brass band traditions.
---
Big Pete at WWOZ.
Photo by KaTrina Griffin

Peter "Big Pete" Kastl hosts one of our Traditional Jazz shows from 8-10am on Saturday mornings. Here's how he got there, in his own words: "I moved to New Orleans in 1971 and began listening to Big Mama (I've always loved traditional jazz). I was washed away by Hurricane Katrina for a few years; however, when I relocated back to New Orleans in 2010, I started volunteering at WWOZ with plans to become a show host. After appropriate training, I was volunteering one day, when a trad jazz show host failed to show up. I stepped in then, and now, 12 years later, I occupy Big Mama's original time slot." Thanks Big Pete, for all the years of sweet tunes!
---
| | |
| --- | --- |
| | This month we have a pair of recipes, and to be honest, they're probably better as reading material than actual cooking instructions. They're 19th-century Lenten recipes from Lafcadio Hearn's 1885 cookbook. Hearn was an international travel writer who lived in New Orleans during 1877-1887. He helped create the popular perception of the city as culturally distinct from the rest of the US, having more in common with the Caribbean and Europe. In La Cuisine Creole: A Collection of Culinary Recipes (1885), Hearn published recipes he'd collected from chefs and home cooks around the city. The two recipes at the link are for "maigre" or meatless dishes for Lent. |
---

Air time:
Wednesday, March 23, 2022 - 8:45am