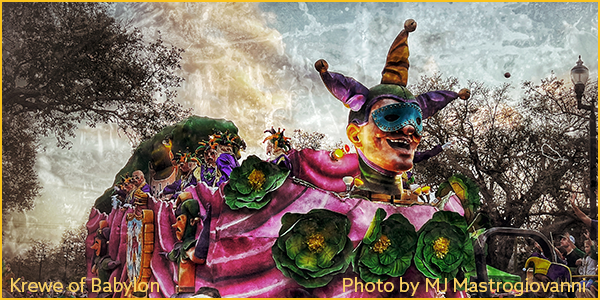 In the FEBRUARY 2023 Issue of the 'OZone,
WWOZ's monthly newsletter:
Report to the Community for 2022 | Join Us for Piano Night on Monday, May 1 | Mardi Gras on WWOZ | Spring Membership Drive, March 2-10 | Happy Birthday, Irma! | Chanteuse: Celebrating New Orleans Women in Music | Volunteer Profile: Mary Lambert | Recipe: Bloody Marys by the Gallon | Quick Links
More 'OZ: Facebook | Twitter | Instagram | YouTube | Listen Live | Support 'OZ
---
Beth Arroyo Utterback
Photo by Ryan Hodgson-Rigsbee

A Message from WWOZ General Manager Beth Arroyo Utterback. Dear Guardians of the Groove, I am proud to share with you WWOZ's brand new Report to the Community for 2022! I think you'll agree--this is a WOW! Many thanks to our amazing staff, show hosts, volunteers, musicians, board and supporters like you! Please take a few moments to read our report. Yours in the Groove, Beth.
---
Kyle Roussel at Piano Night 2022.
Photo by Marc PoKempner

WWOZ Piano Night happens at the House of Blues New Orleans on May 1, the Monday night between Jazz Fest weekends. This year we'll have five-and-a-half hours of piano music on the Music Hall main stage, with a line up that includes 24 piano players, among them Marcia Ball, Jon Cleary, Oscar Rossignoli, John "Papa" Gros, Kyle Roussel, Lilli Lewis, Jesse McBride, Craig Adams, Keiko Komaki, Tom Worrell, Josh Paxton, Larry Sieberth, Al Lil' Fats Jackson, Mari Watanabe, Tom McDermott, and Dr Courtney Bryan! General admission tickets go on sale Friday, February 24.
---
FiYiYi Big Chief Victor Harris.
Photo by Ryan Hodgson-Rigsbee

Carnival in New Orleans is about to hit its zenith! Can't make it to the parades, or can't make it to the Crescent City? We've got you covered. During the last seven days of Carnival, from February 15-21, our show hosts will be breaking format as they see fit in order to bring you the soundtrack to Mardi Gras, as only WWOZ can. New Orleanians all over the world tune in to our internet stream at WWOZ.org on Mardi Gras day -- if you're not here this year, you can still come join the party! And check out our Mardi Gras parade schedule: this weekend the big krewes (like Muses, Endymion, and Bacchus) roll.
---
| | |
| --- | --- |
| Our Brass Band hat | We need your support in order to keep the sweet-n-funky grooves flowing around the world. So please join our number during our Spring Membership Drive, which happens March 2-10. Turn on the device of your choice, tune in, crank the volume, and help us Guard the Groove. |
---

---
Irma at the WWOZ Groove Gala
Photo by Bill Sasser

Tune in to WWOZ this Saturday, February 18 and help us share the love as we celebrate the birthday of the Soul Queen of New Orleans, the incomparable Irma Thomas! Irma's an amazing talent and wonderful person who's been a supporter of WWOZ since we first went on the air. From 2-4 pm pn Saturday we're pre-empting our regular programming to bring you highlights of Irma's many live performances broadcast by WWOZ over the years, which you won't hear anywhere else. Plus you can expect to hear salutes throughout the day from our show hosts, including a few surprises along the way--and also on our Facebook, Twitter, and Instagram.
---
Erica Falls.
Photo by Louis Crispino

The New Orleans Jazz & Heritage Foundation announces the 2023 edition of Chanteuse: Celebrating New Orleans Women in Music, a concert series featuring outstanding women vocalists at the George and Joyce Wein Jazz & Heritage Center. This year's lineup includes Lulu & The Broadsides (2/24), Erica Falls (2/25), The Sarah Quintana Band (3/3), Ever More Nest (3/4), The Nayo Jones Experience (3/10), and Sharon Martin (3/11). Tickets are $10 and all proceeds support the New Orleans Jazz & Heritage Foundation. Seating is limited, so please register in advance. If you can't make it, catch the live video stream on our Facebook page or at WWOZ.org.
---
Mary Lambert at WWOZ.
Photo by Maryse Dejean

Mary Lambert, voice of the Wednesday Livewire, is a Baton Rouge native who moved to New Orleans in 2002 to work with the Park Service. She realized that the best way to get to know the city and make friends was to volunteer. Mary chose WWOZ because she loves the music! She remembers volunteering during one of Brother Jess's Gospel Shows during a membership drive and thinking to herself "These are cool people!" She's also a Jazz Fest volunteer, where we can always count on Ms. Mary for a smile and hug. Mary retired from her career with the Park Service in 2021 and is now celebrating 21 years of volunteering with WWOZ. "I've traveled all over (the world) but never found a place that compared to New Orleans! It makes me happy. I smile when I come here." says Mary. "New Orleans music just gets into your soul!" Thanks for your love and dedication, Mary!
---
| | |
| --- | --- |
| | Day time celebrations, like Mardi Gras parades and music festivals, seem to call for bloody marys. For your next such event, impress your friends by ditching the manufactured mix and making your own. |
---

Air time:
Wednesday, March 23, 2022 - 8:45am