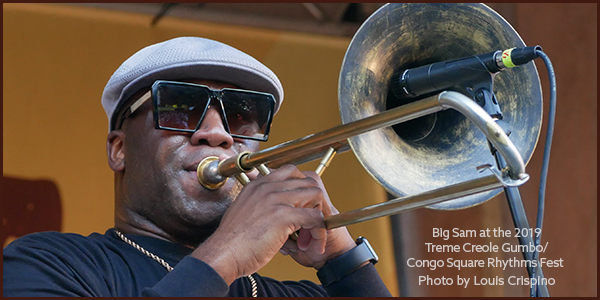 In the MARCH 2022 Issue of the 'OZone,
WWOZ's monthly newsletter:
WWOZ Piano Night, May 2 | Spring Membership Drive Shout Outs | WWOZ Wins Three Louisiana Association of Broadcasters Awards | WWOZ Celebrates Germaine Bazzle | This Weekend: Treme Creole Gumbo & Congo Square Rhythms Festivals | Jazz & Heritage Concert with John Boutte & Family | Volunteer Profile: Dan Meyer | Recipes: A Collection of Pies | Quick Links
More 'OZ: Facebook | Twitter | Instagram | YouTube | Listen Live | Support 'OZ
---
Marcia Ball
Photo by Leon Morris

Come on out and join us for Piano Night, our annual fund-raiser and celebration of the New Orleans piano tradition, which happens Monday, May 2 at the House of Blues New Orleans. The lineup includes Marcia Ball, Joe Krown, Oscar Rossignoli, Lilli Lewis, Jesse McBride, Mari Watanabe, Kyle Roussel, Josh Paxton, Larry Sieberth, Michael O'Hara, Yoshitaka Tsuji (Z2), Tom Worrell, Dr. Courtney Bryan and many more!
---
| | |
| --- | --- |
| | Big thank-yous to everyone who helped make our recently-completed Spring Membership Drive a spectacular success. As always, the first thank-yous go to WWOZ members, both new and renewing (Guardians of the Groove each and every one), and to our listeners, who comprise the world's greatest audience. And a standing ovation for our Membership team, who made it all happen. |
---
LAB Awards
Photo by Carrie Booher

Exciting news: we received three top honors at the Louisiana Association of Broadcasters Prestige Award Ceremony in Baton Rouge on March 17! Specifically, WWOZ won the Uniquely Louisiana Award (for Jazz Festing in Place), the Best Use of Digital Media Award, and the Best Radio Personality/Team Award (for the late Action Jackson and Takin' it to the Streets). Our members make all this possible, so thanks to everyone out there who supports WWOZ.
---
Germaine Bazzle at WWOZ.
Photo by Marc PoKempner

Tune in to WWOZ on Monday, March 28, as we celebrate the 90th birthday of the divine New Orleanian jazz singer and educator Germaine Bazzle. Expect to hear salutes throughout the day from our show hosts (including a few surprises along the way) and also on our Facebook, Twitter, and Instagram. And during Jazz from the French Market at 5 pm, show host Maryse will dig into the vaults of the Archive of the New Orleans Jazz & Heritage Foundation, to bring us recordings of Germaine performing live at Jazz Fest, including the very first Jazz Fest in 1970, all the way up to the 50th Jazz Fest in 2019!

---
Cha Wa plays on 3/27.
Photo by Louis Crispino

Two of New Orleans' finest festivals are now combining into one grand event! The Treme Creole Gumbo Festival and the Congo Square Rhythms Festival will happen concurrently on the weekend of March 26-27. Both events celebrate the Faubourg Treme neighborhood as the birthplace of both jazz and so much of our local New Orleans culture. The festivals will happen throughout Louis Armstrong Park and Congo Square with multiple performance stages and large local food and arts markets.
---
John Boutte.
Photo by Bill Sasser

This Friday, March 25, to kick off the 2022 Treme Creole Gumbo Festival & Congo Square Rhythms Festival, the New Orleans Jazz & Heritage Foundation presents John Boutté and Family, with special guests Tanya Boutté & Arséne DeLay at the Jazz & Heritage Center. Seating is limited, so advance registration is recommended. Tickets are $10; all proceeds support efforts of the New Orleans Jazz & Heritage Foundation, including the Music Relief Fund. The concert will be live-streamed at jazzandheritage.org/live
---
Dan Meyer at WWOZ ca. 1990.
Photo by Infrogmation

We're happy to shine the spotlight on long-time show host Dan Meyer as he celebrates 40+ years with WWOZ. Dan shares the music he loves on his Monday morning Traditional Jazz show (9-11a CT), and he's especially happy when a musician calls the show to say they've added a song that they heard him play to their repertoire. Dan says that he feels "gratified" when looking at how far WWOZ has come since the 1980s. Back in the day, he missed OZ like crazy while traveling: "Back then, we were all thinking about some kind of international shortwave... I couldn't even imagine anything like the internet." Thank you Dan Meyer for loving the music and for serving a feast for our ears every Monday morning. We appreciate you and everything you bring to WWOZ!
---
| | |
| --- | --- |
| Lemon meringue | Even though "Pi Day" (3-14) has passed, we thought you might enjoy this collection of pie recipes, because in times like these, who doesn't need more pie? Includes Walter "Wolfman" Washington's favorite lemon meringue pie, plus key lime, pumpkin, peach, and more. |
---

Air time:
Wednesday, March 23, 2022 - 8:45am