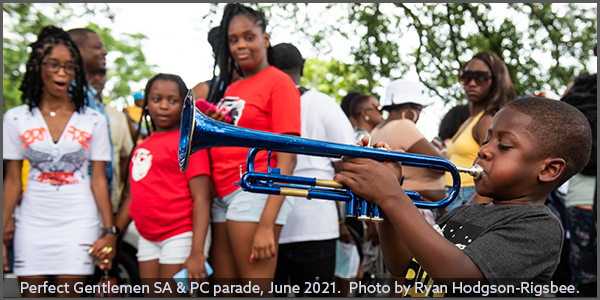 In the OCTOBER 2021 Issue of the 'OZone,
WWOZ's monthly newsletter:
Jazz Festing in Place Fall 2021 Wrap Up | WWOZ Wins Five Press Club Awards | Print Sale: "WWOZ Second Line" | Update on Sunday Second Lines | New Orleans Film Festival Nov 5 - 21 | Livewire Music Calendar: All Treats, No Tricks | Recipe: Manhattan-style Fish Chowder | Quick Links
More 'OZ: Facebook | Twitter | Instagram | YouTube | Listen Live | Support 'OZ
---
Binnie, Festing in Place in Ohio.


Thanks to everyone who helped make our recent Jazz Festing in Place Fall 2021 broadcasts, which aired October 7-10 and October 14-17, a giant success! 'OZ listeners submitted hundreds of photos of themselves festing in place around the world; you can see them all in our super-colossal photo gallery.

» Jazz Festing in Place gallery

Using our Two Week Archive, you can re-stream sets from Jazz Festing in Place. First weekend sets have begun to expire, while second weekend sets begin expiring on Th October 28.
---
| | |
| --- | --- |
| Press Club Awards. | Some happy news to share: WWOZ won five Press Club of New Orleans Awards last week! The Awards were in the categories of Best Radio Show for "Jazz Festing In Place," Best Social Video for "WWOZ Groove Gala," Best Social Media Campaign for "Jazz Festing In Place," Best Feature Videography for "Telephone Grooves," and Best Use of Twitter for "Jazz Festing In Place!" |
---
| | |
| --- | --- |
| Detail from "WWOZ Second Line." | In this limited edition print, artist J. Pierre depicts the music and life of New Orleans with a joyful second line winding through the streets of the French Quarter. The cityscape is richly painted and features a winding piano keyboard as well as the Crescent City Connection and the Mississippi River. Signed and numbered by the artist, this print is perfect for any Guardian of the Groove! Each print purchase supports WWOZ and helps us keep bringing New Orleans music to world. |
---
| | |
| --- | --- |
| Still from video. | Second line Sundays are back and WWOZ is still keeping you up to date on our website and social media with route sheets, video, and more! While some clubs are electing not to parade this year due to Covid, others are stepping out and hitting the streets. We'll continue to do our very best to keep you up-to-date on Takin' It To The Streets, WWOZ's celebration of New Orleans' social aid & pleasure clubs, second lines, Black Masking Indians, Baby Dolls, and brass band traditions. |

---
Buddy Guy.
Photo by Leon Morris

The New Orleans Film Festival returns with a mixture of in-person screenings during November 5-14 and virtual events during November 5-21. Among films of interest to music fans are Buddy Guy: The Blues Chase the Blues Away; City of a Million Dreams (about New Orleans jazz funerals); Resurrection! Airto Moreira & the Preservation Hall Jazz Band; and Blondie: Vivir En La Habana.
---
Walter "Wolfman" Washington.
Photo by Leon Morris

The WWOZ Livewire music calendar has the lowdown on live, local music. You can hear it on the air at the top of every odd hour, or check it out online at wwoz.org/calendar. For instance if you're planning for Halloween night, your music entertainment choices for October 31 include (among many others) Walter "Wolfman" Washington Does Halloween at Snug Harbor, Morning 40 Federation at d.b.a., Hot 8 at the Howlin' Wolf, and Quintron and Miss Pussycat at the Toulouse Theatre (formerly One-Eyed Jacks).
---
| | |
| --- | --- |
| | This recipe puts a Louisiana twist on tomato-based Manhattan-style chowder (in contrast with creamy "New England" style) with the trinity, cayenne, and your favorite kind of firm white fleshed Louisiana fish, like trout, red snapper, red fish, even tilapia in a pinch. Add some nice crusty bread on the side and it's dinner time. |
---