In 1922, Lil Hardin was playing piano at the Dreamland in Chicago, with King Oliver and his Creole Jazz Band, when a new young cornet player arrived from New Orleans. Now, Miss Lil had grown up in Memphis and was an educated pianist and composer, but she had also been influenced by the great Jelly Roll Morton and had played with jazz bands around the country. 
Some of the other musicians in King Oliver's band had pursued her and gotten nowhere, but she took a shine to this new self-taught cornet player named Louis Armstrong -- even though she wasn't impressed by his hair and his clothes. She thought he could do better than second cornet -- a lot better. 
She set about changing his style, and encouraged him to think bigger. By 1924, Lil and Louis were married. It was the second marriage for each of them. And that year Louis got invited to join the Fletcher Henderson Orchestra in New York -- which was more money, more exposure, and great musicians to play with, but it still wasn't top billing. 
By 1925, Lil had convinced him to return to Chicago and play with her own band at the Dreamland, where she had him promoted as the "World's Greatest Trumpet Player." Now that was top billing.
From then on, Louis's star kept rising. He did a series of famous recording sessions for Okeh Records with his own band the Hot Five, which included Miss Lil on piano, alongside Kid Ory, Johnny Dodds, and Johnny St Cyr. Sometimes the band expanded, to be the Hot Seven. And Lil wrote a lot of the songs for these sessions, including the classics 'Struttin' With Some Barbecue,' 'Ske-Dat-De-Dat,' and 'Lonesome Blues.' 
As Louis became more famous, he and Miss Lil drifted apart. Louis recorded some Hot Five sessions without Miss Lil. Lil formed a new band of her own, with Freddie Keppard on trumpet. The breakup wasn't bitter, and they stayed friends. They eventually divorced years later, in 1938. 
Louis passed in 1971. And seven weeks later, Miss Lil took part in a memorial concert in Chicago, paying tribute to Louis. While playing 'St Louis Blues,' she suffered a heart attack, and died before reaching the hospital.
Lil Hardin was never as famous as her second husband, Louis -- but who could be? But she played a big part in his rise to fame. And she was a great musician in her own right, and their collaborations on the Hot Five and Hot Seven sides are some of the most famous jazz recordings in history, and will live forever.
This feature's narrator is Charmaine Neville. Charmaine is the daughter of Charles Neville, and comes from a family with one of the richest musical legacies in New Orleans history. She puts her own stamp on this musical heritage, including via an ace impression of Louis Armstrong. Charmaine has performed at every New Orleans Jazz & Heritage Festival since 1987, as well as alongside an eclectic variety of international acts, including the Rolling Stones, Dr. John, Harry Connick, Jr., and many more. Charmaine is well-known for her dramatic vocal range and ability to garner crowd participation. "All music is good music," she says.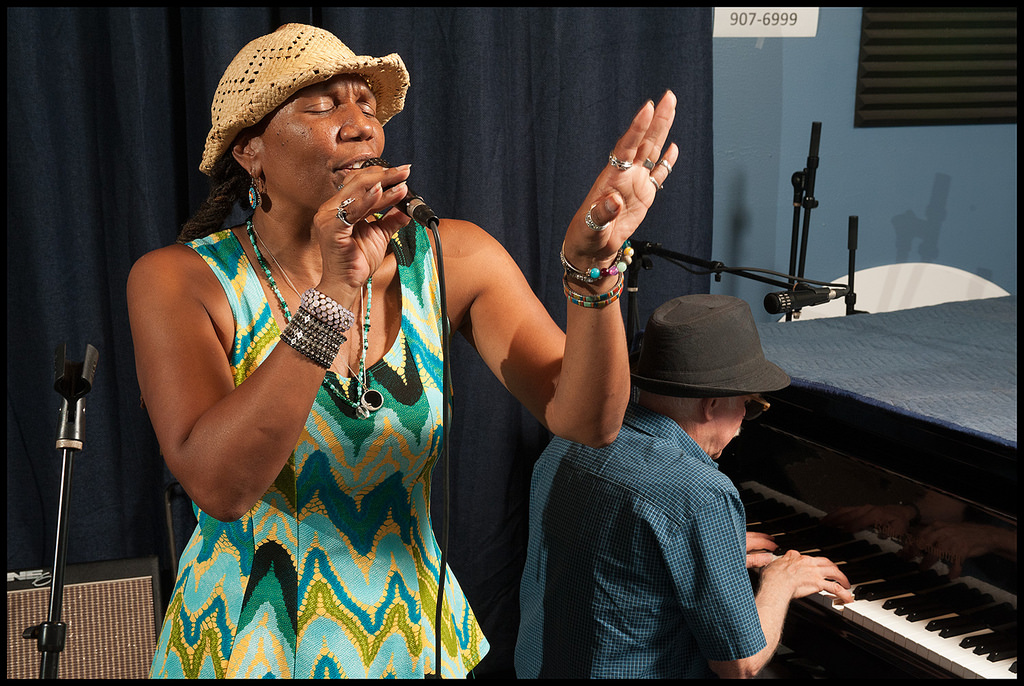 Charmaine Neville at WWOZ [Photo by Ryan Hodgson-Rigsbee]
This WWOZ New Orleans Tricentennial Moment was made possible with support from these sponsors: