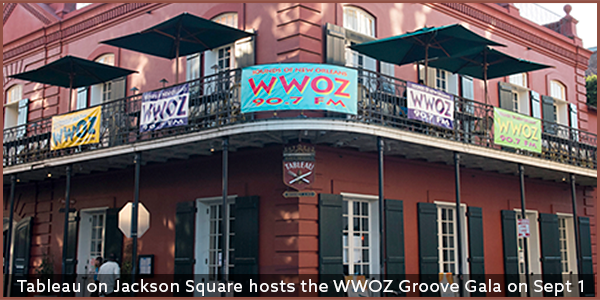 In the JULY 2022 Issue of the 'OZone,
WWOZ's monthly newsletter:
Groove Gala Tickets On Sale Now | 'OZ Summer Merch Sale | Satchmo SummerFest Returns August 6-7 | Jazz & Heritage Foundation Concerts: Arséne DeLay & Lynn Drury | Volunteer Spotlight: Neil Pellegrin | Recipe: Blackened Shrimp | Quick Links
More 'OZ: Facebook | Twitter | Instagram | YouTube | Listen Live | Support 'OZ
---
Meschiya Lake.
Photo by Michele Goldfarb

Calling all Guardians of the Groove! Join us Thursday, September 1 for WWOZ's Groove Gala, an indoor festival at Tableau Restaurant and Le Petit Theatre in the French Quarter. There'll be amazing food and a music lineup that includes Irma Thomas, John Boutte, Bruce "Sunpie" Barnes, Amanda Shaw, Doreen Ketchens, Meschiya Lake, and Al "Lil Fats" Jackson. It's not your average gala: leave your tuxes and gowns at home and come in your favorite festival attire! Tickets are limited so please reserve yours today.
---
| | |
| --- | --- |
| Vintage tee design. | Check out our selection of merchandise for 'OZ members and listeners who want to show off their 'OZ pride and help us spread the good word about the station! In order to keep prices low and print quality high, we've selected a handful of top-selling vintage WWOZ shirt designs to make available this summer. Shirts will be printed in once-a-month batches, so please expect a delivery time of at least several weeks. This sale wraps up August 15. |
---
Kermit Ruffins.
Photo by Louis Crispino

Every year, WWOZ celebrates the life, legacy, and music of Louis "Satchmo" Armstrong in the days leading up the Satchmo Summerfest. We honor Pops as only WWOZ's show hosts can: different shows take different approaches to the many facets of Armstrong's career. We'll have lots of surprises and tributes all week from August 1-5, especially on our Traditional Jazz shows from 9-11am. Satchmo Summerfest happens at the New Orleans Jazz Museum on August 6-7. The lineup includes Kermit Ruffins, Preservation Brass, Jeremy Davenport, Herlin Riley, Germaine Bazzle, John Boutte, The Roots of Music and lots more, including Jewel Brown, one of Satchmo's last singers! Plus speakers and panels, including fan favorite Ricky Riccardi of the Louis Armstrong House Museum in Queens, New York.
---

---
Arséne DeLay.
Photo by Ryan Hodgson-Rigsbee

The New Orleans Jazz & Heritage Foundation's Summer Concert Series concludes this month with performances by Arséne DeLay (July 16) and Lynn Drury (July 23). Shows happen at the George and Joyce Wein Jazz & Heritage Center, tickets are $10, and seating is limited, so please register in advance. If you missed earlier sets in the series, like Gal Holiday last Saturday, you can catch them on the » NO Jazz & Heritage Foundation YouTube channel and the WWOZ Facebook video page.
---
Neil Pellegrin on the mic.
Photo by Marc PoKempner

At age 9, Neil Pellegrin began cultivating his love of 1950's American Pop and New Orleans R&B via his father's record collection. At a record sale, the 14-year-old Neil met Jivin' Gene, the iconic host of the WWOZ's Tuesday Night Blues and R&B Show. They realized that they were West Bank neighbors, and soon Neil was making the trip to Armstrong Park and assisting Gene with his show. When Jivin' Gene retired in 2013, he passed the baton to Neil, for whom "It's a pleasure and an honor to turn people on to music they haven't heard!" Neil also speaks lovingly of having met Frogman Henry, Frankie Ford, and the late Snooks Eaglin and Eddie Bo. "We really have to appreciate the people we love," Neil confides, "We expect them to be around forever." Neil will be our house DJ at the Groove Gala (see above) on September 1. We thank him for his wise and kind presence on the airwaves, and we wish him a very happy birthday on July 17!
---
| | |
| --- | --- |
| Blackened Shrimp | This quick & easy shrimp treatment makes for awesome shrimp tacos or shrimp salads, and it's great even with just some plain white rice. Or serve them on toothpicks as spicy hors d'oeuvres. You could make it even easier by purchasing pre-made blackening seasoning, of which there are a number of brands, including those named for the late, great Paul Prudhomme, who invented & popularized blackened seafood in the early 1980s. |
---

Air time:
Wednesday, March 23, 2022 - 8:45am