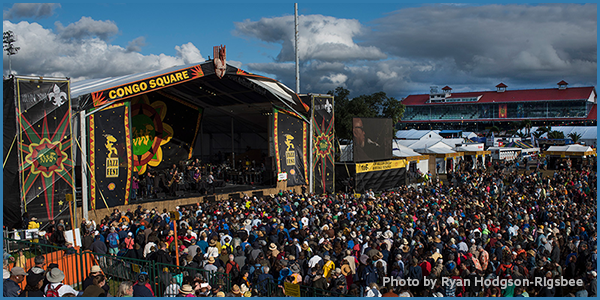 In the APRIL 2022 Issue of the 'OZone,
WWOZ's monthly newsletter:
WWOZ Piano Night: Monday, May 2 | Jazz Fest Live Broadcast | How to Pick Up Your Brass Pass | WWOZ French Quarter Fest Broadcast | Volunteer Profile: Gerald French | Recipe: Strawberry Shortcake | Quick Links
More 'OZ: Facebook | Twitter | Instagram | YouTube | Listen Live | Support 'OZ
---
See Oscar Rossignoli at Piano Night.
Photo by Bill Sasser

Don't miss out on Piano Night's epic return to the House of Blues, New Orleans: snag your tickets today! Piano Night happens Monday, May 2 and will feature five hours of live music by 18 incredible pianists: Marcia Ball, Oscar Rossignoli, Joe Krown, Lilli Lewis, Jesse McBride, Mari Watanabe, Kyle Roussel, Josh Paxton, Larry Seiberth, Dr Courtney Bryan, John Gros, Eden Brent, Yoshitaka Tsuji (Z2), Matt Lemmler, Tom McDermott, Tom Worrell, David Boeddinghaus, and Michael O'Hara. All for your delight and grooving pleasure, and to benefit WWOZ.
---
Luther Kent from our 2019 broadcast.
Photo by Leon Morris

Jazz Fest starts a week from Friday (yep, it's true!) on April 29 and runs through May 8. If you're not able to make it this year, or if you can't be there every day, remember that WWOZ will broadcast live from multiple stages each day of the festival. Once the broadcast schedule is finalized, we'll post all the info on wwoz.org. So tune in for our award-winning Jazz Fest broadcast!
---
| | |
| --- | --- |
| | If you bought a Brass Pass for Jazz Fest 2022 (thanks much!), you can pick it up according to the instructions at the link below. Note that we will not do pick up at the station this year; instead, the last distributions before Jazz Fest will be held on Tuesday, April 26 and Wednesday, April 27 at the New Orleans Jazz & Heritage Foundation on North Rampart, a much more accessible location. |

---
Irma plays on Friday evening.
Photo by Marc PoKempner

French Quarter Fest returns after a two-year hiatus, and you can hear acts like the Lost Bayou Ramblers, Amanda Shaw, and Irma Thomas on WWOZ's live broadcast. Always an amazing showcase of Louisiana music, food, and culture, the fest happens this weekend, April 21-24, across the French Quarter from 11am-8pm each day. Visitors can enjoy regional cuisine from more than 50 local restaurants and dance to the beat of 265+ Louisiana acts on 20 stages. Thursday through Saturday, WWOZ will broadcast sets from the Chevron Stage in the Jax Brewery lot.

» More details on French Quarter Fest

» Our French Quarter Fest broadcast lineup
---
Gerald French at WWOZ.
Photo by Katherine Johnson

Gerald "DJ Giant" French hosts our Thursday Blues show from 2-4pm. At 52, he's the leader of the Original Tuxedo Jazz Band, the oldest performing jazz band in the world. He's also a drummer, a singer, "a sometimes percussionist" and a Black Masking Indian. Gerald says that even though music chose him, his late uncle Bob French (who hosted a Friday morning WWOZ show called French Cooking) inspired him to embrace the drums as his instrument. Gerald looks forward to doing even more at the station despite a busy schedule of performances and other community commitments. As a musician with a solid knowledge of a broad range of music, he's equally at home with modern jazz, traditional jazz, zydeco, or blues. "Throw me anywhere and I'll be OK!" Thank you, Gerald French, for your Giant contributions to WWOZ!
---
| | |
| --- | --- |
| Lean into some strawberry shortcake | Strawberry shortcake is the taste of summertime & grandma's garden. It's so fundamentally wonderful that it's a hit even if you use store-bought cakes (or sliced sponge cake), frozen strawberries, and canned whipped cream. (That's also a kid-friendly version for young chefs!) This version, which uses fresh seasonal strawberries, homemade sweet biscuits, and freshly whipped cream takes it to another level. |
---

Air time:
Wednesday, March 23, 2022 - 8:45am