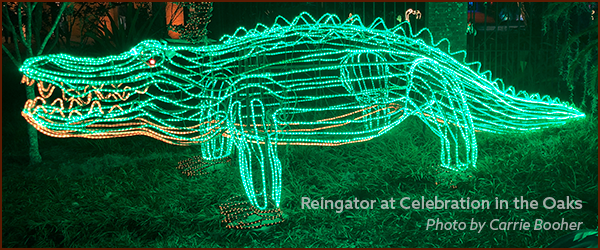 In the DECEMBER 2021 Issue of the 'OZone,
WWOZ's monthly newsletter:
A Perfect Holiday Gift for the OZillian in Your Life! | Fall 2021 Jazz & Heritage Concert Series | Support WWOZ on Giving Tuesday | WWOZ Celebrates 41 Years on December 4 | Volunteer Profile: Ava Daniel-Johnson | Volunteer Profile: Mike Thompson | Twelfth Night is January 6 | Recipe: Christmas Turkey with Cornbread-Andouille Stuffing | Quick Links
More 'OZ: Facebook | Twitter | Instagram | YouTube | Listen Live | Support 'OZ
---
| | |
| --- | --- |
| | Please remember WWOZ on your holiday gift list! For over four decades, your support has helped WWOZ to preserve New Orleans musical history and cultural heritage, an especially challenging mission in these times. With the 2021 tax season ending soon, please consider making a tax-deductible donation to WWOZ today. Your support allows us to bring you not only great radio, but live video streams, the two-week on-demand archive, and your other favorite WWOZ programming. Help us keep guarding the groove!. |
---
Bruce "Sunpie" Barnes
Photo by Ryan Hodgson-Rigsbee

Tune in during the week of December 19-25 to hear exclusive broadcasts of many Holidays New Orleans Style concerts, produced by French Quarter Festivals Inc. in partnership with New Orleans & Company. These performances by the Zion Harmonizers, the Original Tuxedo Jazz Band, Sunpie & the Louisiana Sunspots, Don Vappie, Tim Laughlin, Amanda Shaw, and Irma Thomas were recorded by WWOZ in 2020 and 2021 at two historic locations: the St Louis Cathedral on Jackson Square, and St Augustine Church in Treme. In addition, we'll also be airing the Heritage School of Music All-Star Holiday Concert, presented by the New Orleans Jazz & Heritage Foundation.
---
Catch Topsy Chapman on 1/15.
Photo by Marc PoKempner

The Danny Barker Banjo & Guitar Festival returns in January 2022. The festival, which honors the late, great Danny Barker (born January 13, 1909) opens with a Patron Party on January 12, and workshops, performances, and much more from January 13-15, at locations including UNO, NOCCA, Snug Harbor, and the New Orleans Jazz Museum. Danny Barker was a great friend to WWOZ in our early years, and we'll be celebrating him on the air all that week as well.
---
Anjelika "Jelly" Joseph.
Photo by Leona Strassberg Steiner

Let the Livewire music calendar help your plan New Year's Eve musical entertainment. As of this writing, the list of NYE shows includes, among others, DJ Soul Sister's 19th Annual NYE Soul Train at the Civic Theater; NYE with Soul Brass Band at d.b.a.; Funkin' Into the New Year with Big Sam at the Jazz Playhouse; The Revivalists and the Preservation Hall Jazz Band at Mardi Gras World; Cowboy Mouth at the Rock'n'Bowl; NYE with Topsy Chapman & Solid Harmony at Snug Harbor; Galactic ft. Anjelika "Jelly" Joseph at Tipitina's; and Big Night New Orleans ft. Big Freedia, Tank & The Bangas, Brass-A-Holics and more at the Hyatt Regency. Whew, such a list!
---
Big Nine at Jazz Fest.
Photo by Ryan Hodgson-Rigsbee

Two upcoming holiday season second lines: the Big Nine Second Line Parade happens on December 19, and Lady and Men Rollers Second Line Parade happens on December 26. To keep up with it all, there's Takin' It to the Streets, our multi-platform program celebrating New Orleans' social aid & pleasure clubs, second lines, Black Masking Indians, Baby Dolls, and brass band traditions.
---
| | |
| --- | --- |
| Mike Thompson. | This month, we'd like to acknowledge and thank Michael Thompson for his enthusiastic and consistent support, through volunteering at the station with his wife Dianna. This season is very special for Mike, as it marks his first month as a retiree! His last day at work after 31 years was November 30. We wish him continued success and much joy as he and Dianna can now fully explore New Orleans music and culture while spending more time with their family in Georgia, Hawaii, Florida and Louisiana. Thank you Mike! |
---
Joan of Arc Parade, 2020.
Photo by Marc PoKempner

All indications are that Carnival 2022 is a go! Up first, Twelfth Night (January 6) events, which include walking parades in the French Quarter (Krewe of Joan of Arc followed by Société Des Champs Elysée) and Saint Charles streetcar rides Uptown (Phunny Phorty Phellows and the Funky Uptown Krewe). Stand by, king cakes incoming!
---
Turkey with Cornbread-Andouille Stuffing

Put the deep fryers away! Get ready for the holiday season with this traditional recipe for Christmas Turkey with Cornbread-Andouille Stuffing, a throwback courtesy of Chef Matt Murphy and the Ritz-Carlton of New Orleans.

» Recipe: Christmas Turkey with Cornbread-Andouille Stuffing
---