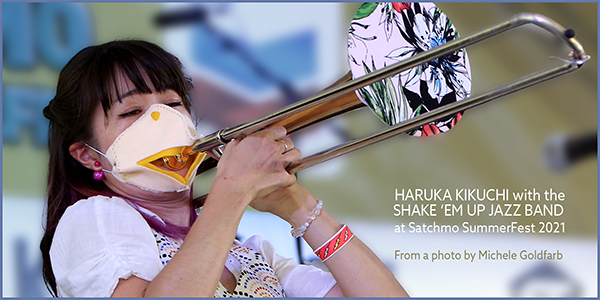 In the SEPTEMBER 2021 Issue of the 'OZone,
WWOZ's monthly newsletter:
Fall Membership Drive, September 23-29 | Jazz Festing in Place 2021, October 7-10 & 14-17 | Print Sale: "WWOZ Second Line" | In Memoriam: George Wein | In Memoriam: Carol Fran and Bennie Pete | Volunteer Spotlight: Marta Welden | Recipe: Grillades & Grits | Quick Links
More 'OZ: Facebook | Twitter | Instagram | YouTube | Listen Live | Support 'OZ
---
| | |
| --- | --- |
| New member gifts for 2021-22. | Thanks to our operations and engineering staff (and some well-laid plans!) Hurricane Ida only knocked out our online stream for a day or so. No such luck for our Fall Membership Drive, originally scheduled to begin September 9. It's been rescheduled in abbreviated form for September 23-29 and features a new set of member gifts. Thank you so much to everyone who has donated to WWOZ since September 1. It's your support that keeps WWOZ on-air and online through it all. Thank you! |
---
Trombone Shorty.
Photo by Ryan Hodgson-Rigsbee

In spite of recent setbacks, we're still planning to present Jazz Festing in Place during two four-day weekends next month, October 7-10 and October 14-17! Tune in as we partner with the Archive of the New Orleans Jazz & Heritage Foundation to share the best music from Heaven & Earth: rare and historic sets from Jazz Fest's past. So, on what would have been the fall weekends of the festival, it's time to put on your festival gear, turn up WWOZ, and get set up for October Jazz Festing in Place.
---
| | |
| --- | --- |
| Detail from "WWOZ Second Line." | Created by artist J. Pierre, "WWOZ Second Line" is visual celebration of music and life in New Orleans, depicting a joyful Second Line in the streets of the French Quarter. The print radiates life with its bold colors, dynamic themes and rich texture. Perfect for any Guardian of the Groove! 25"x33". Giclee on watercolor paper. Later this year, we'll be holding a special online auction; one item will be the artist's original version of this print. We'll also auction off dinner with a NOLA music legend and more, details on the way soon. Stay tuned! |

---
George Wein at Jazz Fest 50.
Photo by Ryan Hodgson-Rigsbee

George Wein, founder of the New Orleans Jazz & Heritage Festival, the Newport Jazz Festival, and the Newport Folk Festival, died Monday, September 13 at the age of 95. Wein has long been regarded as a true visionary and pioneer of the modern festival; over the course of his seventy year career, Wein produced hundreds of festivals around the world. His love of the music, combined with his acute business acumen, made him so successful. "I never went into it as 'a business,'" he said. "The music was in my head, in my heart, in my soul." George Wein will be deeply missed by the music community, both in New Orleans and worldwide.
---
Bennie Pete / Carol Fran.
Photos by Kichea S. Burt & Jef Jaisun

More sad news to pass along. Blues singer and pianist Carol Fran died September 1 at the age of 87. Fran was associated with Excello Records and the "swamp blues" genre, characterized by a mixture of laid back vocals and Cajun & Zydeco rhythms, which she performed with distinctive voice and piano-playing style. She was a beloved live performer (and Piano Night veteran) who gained most of her accolades on Bourbon Street and in Europe.

Bennie Pete, sousaphone player and Hot 8 Brass Band co-founder, died on Monday, September 6 at New Orleans East Hospital of complications of sarcoidosis and covid-19. He was 45. A tireless advocate for New Orleans culture and brass band music, Pete was respected by everyone in the New Orleans community and was well-known for his gentle nature and talent.
---
| | |
| --- | --- |
| Marta Welden. | Marta Welden, a California native, says that WWOZ was instrumental in her decision to move to New Orleans. While visiting the Crescent City in 2004, she discovered the station at the bed and breakfast where she stayed. "Music is a number one passion for me," says Marta. "I felt for the first time that I'd found a place where I belonged." Marta started volunteering at WWOZ in 2016, helping at the front desk and during the pledge drives as a phone bank volunteer. Throughout 2020, Marta has been helping the station by addressing, and stuffing envelopes with bumper stickers and membership cards to mail out to members. We want to extend a special thank you to Marta for her superb organizational skills and beautiful penmanship! |
---
| | |
| --- | --- |
| Grillades & Grits | This is a Creole classic and a favorite New Orleans breakfast/brunch dish, but it's great any time of day: pan-fried medallions of beef or veal braised in tomato-y gravy and served with your favorite grits. |
---