Produced by Art Neville
Engineered by Jerry Brock
Presented by Melissa Weber and Jerry Brock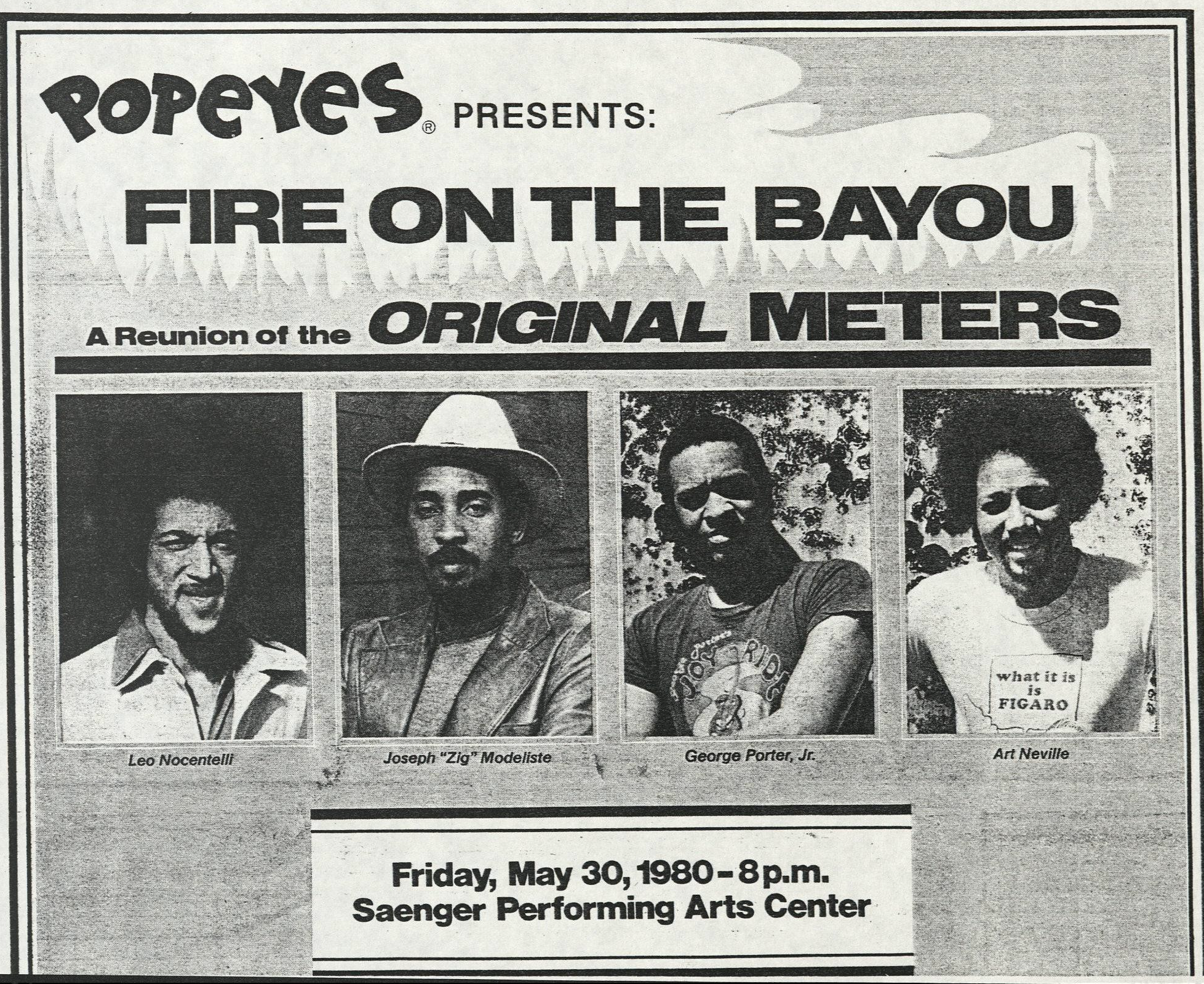 Advertisement for Fire on the Bayou: A Reunion of the Original Meters. Figaro, 12 May 1980.
Scan courtesy of the Hogan Jazz Archive, Tulane University Special Collections, New Orleans, LA.
From Jerry Brock:
Art Neville's 13th Ward Bag is the only radio program that he ever produced. It is Art presenting himself and his love and celebration of his immediate and extended family. He is also celebrating the release of the new Neville Brothers album Fiyo On The Bayou. In an understated way, he presents music and musicians that had a big influence on him and his family. Included in this special show are recordings by Chuck Willis, Alvin Shine Robinson, Larry Williams, Professor Longhair, the Meters, Bo Dollis and the Wild Magnolias, his uncle Chief Jolly with the Wild Tchoupitoulas, brothers, nieces, and nephews. Both he and his brother Charles played with most if not all of these artists. Art remembers the local radio personality Ken Elliott known as Jack the Cat who recorded 'Mardi Gras Mambo' with Art and the Hawketts in 1954 at local radio station WWEZ. Art also lays down a few brief but poignant 13th Ward lines of quality jive to illustrate his take on ethnic vernacular creative speech relative to his life and poetry.
Backstory
I first met Art in 1978 through my friendship and working relationship with Rickie Castrillo, who volunteered many days that turned into months and years in public relations with many New Orleans rhythm and blues and jazz artists, for the station. Through Rickie I met and became friends with Deacon John, Zigaboo Modeliste, Earl King, and others. Through Deacon and Zig, with my background in the music business, a working friendship and relationship emerged and through that I became better acquainted with Art, Charles, and George Porter.
When I was doing the organizing work to establish WWOZ, I knocked on a lot of doors and Art Neville's was one door I knocked on a number of times. When we met he was already being hailed as Poppa Funk but on the streets everybody called him Art, pronounced "RTee."
When I organized the 'OZ benefit "Ain't Nothin' But A Party" that took place in December 1979 at Jimmy's with Professor Longhair and the Blues Scholars, James Booker with guest Rickie Lee Jones, and the Neville Brothers with guest Pattie Labelle – these artists and the public who attended – raised $1200.00 clear for the station. That was enough money for WWOZ to order its first phone line and that number, to this day, is 504-568-1234. Sadly, Fess died January 30, 1980 and never got to hear the station.
This event would not have taken place without the full-throated support and cooperation of Art and Charles Neville, Henry Byrd, and James Booker, though James had little choice as he was sleeping on my couch. Both the Neville Brothers and Professor Longhair's management opposed the idea but the artists prevailed in their support.
Once the station began broadcasting on December 4, 1980 and established a studio above Tipitina's in January 1981, I approached Art about doing a radio show on 'OZ. He was such a natural with his immediately engaging warm full authoritative but comforting baritone voice that was complemented by his knowledge of music and recordings along with his wit, humor, satire and earthy personality.
Together, we discussed the basic format of a program including how much music versus talk for a 90-minute show. I told him to approach it much like he would a gig, to mix up the rhythms, tempos, and the key in which the songs are sequenced to comfortably redirect the listener's attention back to the program. I encouraged him to include artists that he knew and that influenced him and to talk about these artists and their contributions to life. It was the same basic initial training I offered many potential programmers. I ran into Art about a week before we recorded the program and he told me he was ready to record a program.
Following the acclaimed but disappointing sales of their major label debut The Neville Brothers for Capital Records in 1978, Art and the Neville Brothers released Fiyo On The Bayou in 1981, a much more New Orleans-oriented record, for their second album and first release on A&M Records. The release, perhaps, involved a little soul searching and redirection for the group. Art was reaching back into his 13th Ward Bag.
THE PROGRAM
On an unusually cool and springlike Sunday morning around 9a in July 1981, Art walked eight blocks from his home at 1115 Valence Street, through the 13th Ward, to the WWOZ studio above Tipitina's. He titled the program he produced and recorded in real time, Art Neville's 13th Ward Bag. He had mostly cassettes and a few LPs and 45s as he directed the order of the recordings and cued me for announcement breaks. Art Neville's 13th Ward Bag is entirely Art as he selected the recordings, the order, and the announcement breaks. He comfortably fit into our local "be yourself" approach to WWOZ programming. Art's approach to speaking from the stage was really no different.
The themes running concurrent throughout the program are:
1. Art's celebration and love for his family and their music.
2. Presenting some of the people/artists and recordings that had a big influence on Art and his family.
3. Celebrating the new Neville Brothers LP, "Fiyo on the Bayou," their second album and first for A&M (Abundant evidence exists to exhibit that Art never individually financially gained from presenting his own music over WWOZ in 1981).
4. Art's approach as a deejay also attests to his work as a sound engineer, recording artist, record producer, and discerning listener. He purposely shared material that he knew had never been released. I'm certain that Art wanted to sit in his home or drive in his car and hear these recordings over the medium of radio as part of his own research and study of sound recordings and work as a WWOZ volunteer program host. There was Art, the always student, open to learning, new ideas, and new approaches.
FINAL THOUGHTS
If Art had produced more than just this one radio program he would have grown more comfortable, loosened up some, and probably become one of the most gifted programmers to ever emerge from WWOZ. His previous commitments to his family and career didn't allow him this opportunity, but he knew the door was always open and he continued to support the radio station for many years.
PERSONAL NOTE
In the late '90s and early 2000s, Art and I hooked up again when we discovered we both had an interest in Qbase sound engineering and we held sessions together at his house on Valence as we both learned the program. After Katrina, I fell out of touch with Art, though Charles and I remained close until his passing.