In 1949, New Orleans bandleader Dave Bartholomew encouraged an executive responsible for scouting talent for Imperial Records to check out a a local piano player in the 9th Ward. He was playing his regular gig at the Hideaway Club on Desire Street, often covering the hits of others. That night, he pulled out a version of 'Junker's Blues' by Champion Jack Dupree.
After hearing the performance, the record executive said "I've gotta have this guy," and signed him that very night. The young man's name was Antoine -- but everybody called him Fats. Within a week, Fats Domino was at the J&M Recording Studio with Dave Bartholomew and his band along with engineer Cosimo Matassa laying down 'The Fat Man'.
Within three months, the song rocketed to Number Two on the Billboard R&B charts. It was just a taste of what was yet to come for this piano player born and raised in the Lower 9th Ward.
After the lightning success of 'The Fat Man,' Imperial Records quickly reassembled the musicians for an additional Fats Domino session at J&M Studios. This marked the beginning of a long and fruitful musical partnership between Fats Domino and Dave Bartholomew.
With the turn of his head and a smile that lit up a room, Fats Domino captured America's imagination at the beginning of a new decade. From the Lower 9th Ward, Fats conquered the world and changed the future, with a fresh new rhythm and sound from New Orleans that became rock'n'roll.
This feature's narrator is Eric Paulsen. Eric is longtime morning and noon news anchor at WWL-TV.  After an interview in 2004, Eric and Fats Domino became close friends. Eric attended events at Fats' house, reunited him with Dave Bartholomew in 2010, and helped foster some of his final public performances in New Orleans. Read more about Eric and Fats' special friendship in this article from The Advocate.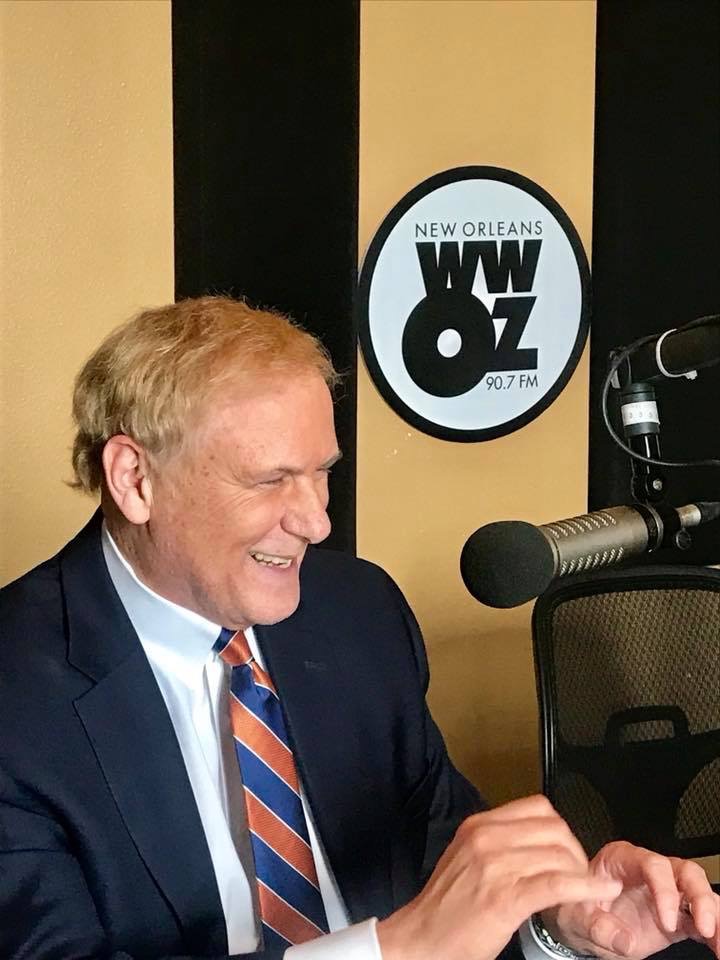 Eric Paulsen at WWOZ, March 2018.
This WWOZ New Orleans Tricentennial Moment was made possible with support from these sponsors: