Early on Mardi Gras Day, the very first thing you may hear is drumming and chanting. In the dimness of the light you may see skeletons walking down your street. It's the Skull & Bone Gang, reminding you just how short your time may be. 
This African Creole tradition of music and masking predates most Carnival traditions in New Orleans, and traces its roots all the way back to 1819. It is one of the most meaningful and mysterious aspects of Mardi Gras. The Northside Skull & Bone Gang revived this tradition in 1991. They wake up the 6th Ward before daylight with scary suits and unearthly music: tambourines, cowbells, drumming, calls, and chants. 
The gang calls out, letting people of the neighborhood know, "If you don't live right, the bone man is comin' for ya," "Dead man walking, the bones are walking," and the ever-present "You next!"
The gang takes the street rituals seriously, knocking on doors and scaring young folks away from the dangers of gun and domestic violence. Their voices and music are primal and frightening. Many grown adults have vivid memories from childhood of being scared by the Skull & Bone Gang. Seeing and hearing them walking down the street is a reminder of your mortality
The skull and bone is the literal meaning of carnival; the shedding of the flesh.  The traditions honors the dead, because skeletons are the universal symbol of those who came before us. The Northside honors the family spirits and African ancestral spirits, inviting them to take a walk on Mardi Gras morning.
This feature's narrator is Bruce "Sunpie" Barnes. Sunpie is the Big Chief of the Northside Skull & Bones Gang. He is also a multi-instrumentalist musician whose repertoire includes accordion, harmonica, rub board, piano, talking drum, and more. He plays zydeco and blues music ("Afro-Louisiana") and currently leads Sunpie & the Louisiana Sunspots. Sunpie works as a naturalist with the National Parks Service and also had a stint as a professional football player. He played one season in the NFL with the Kansas City Chiefs (1995). Sunpie has a passion for preserving traditions, both musically and culturally, and continues to keep them alive and pass them on to young people each year.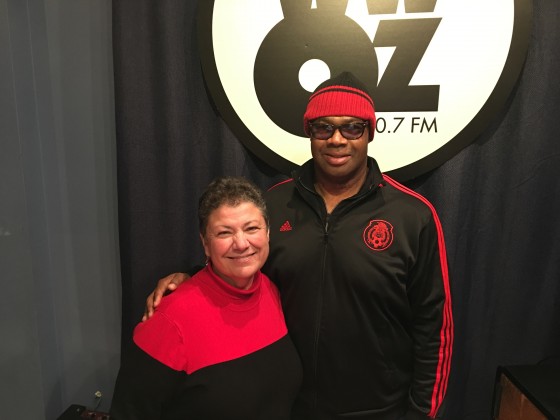 WWOZ General Manager Beth Arroyo Utterback with Bruce "Sunpie" Barnes
Further Reading:
House of Dance and Feathers
NOLA Skull and Bones
Royce Osborne's "Mardi Gras Skeletons"
This WWOZ New Orleans Tricentennial Moment was made possible with support from these sponsors: