In 1957, New Orleans clarinetist Pete Fountain got a phone call for a gig.  He'd been playing clarinet since he was boy, when he had taken it up on doctor's orders due to a lung condition.  He'd been a successful gigging musician since high school, but this gig was much bigger-- it was a call from The Lawrence Welk Show. Pete said yes, and it changed his life.
Pete moved to Los Angeles, and he appeared on The Lawrence Welk Television Show from 1957 to 1959. And because 25% of the country watched Lawrence Welk every Saturday night, Pete Fountain was suddenly a star. 
Pete's humility and charisma won over the viewers. His technique and tone on the clarinet set a new standard. His playing bridged traditional New Orleans style jazz with the swinging Big Band sound on songs like 'Tiger Rag,' 'My Blue Heaven,' 'Ain't Misbehavin',' and 'Basin Street Blues.' Week after week, he brought the sound of New Orleans jazz into homes across America.  
After Pete left the Lawrence Welk  show in 1959, he put out the album Pete Fountain's New Orleans. The record went gold, making him a bona fide star on his own and bringing even more popularity to New Orleans jazz.
Pete came back from California as a well-established bandleader and businessman. He settled back into New Orleans life and became a mainstay of the music scene, owning two different clubs on Bourbon St in the 1960s, and then another one at the Hilton. He recorded over a hundred more albums. His Half-Fast Walking Club is still an annual highlight of Mardi Gras. He became the face of New Orleans jazz, appearing on national TV shows for decades, including on Ed Sullivan, Mike Douglas, and 59 appearances on The Tonight Show, more than any other jazz musician ever. And underneath it all was his unmistakable phrasing and sound.
It was saying yes to Lawrence Welk that was Pete Fountain's big leap, putting him on the road from being a great musician to becoming a true New Orleans legend and ambassador.
This feature's narrator is Tim Laughlin. Tim is a New Orleans native and talented clarinetist who was mentored by Pete Fountain. Tim and Pete were also close friends and performed together many times. Tim has recorded a dozen solo CDs, among which The Isle of Orleans (2003) is an award-winning collection of Laughlin originals. With this album, he was the first and only New Orleans clarinetist to ever write and record an entire album of originals. Tim can be found performing around various New Orleans clubs, including The Palm Court Cafe, Bombay Club, Snug Harbor, and more. He is also a regular in the Economy Hall Tent at Jazz Fest.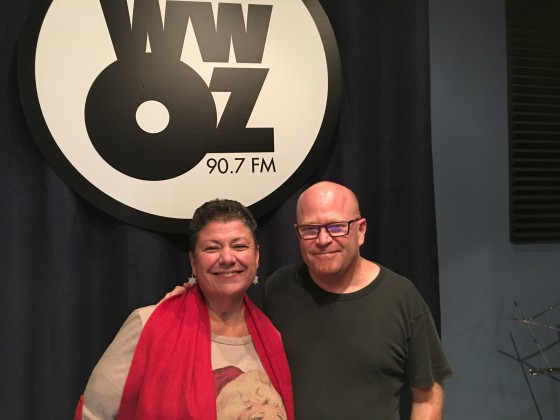 Tim Laughlin with WWOZ General Manager Beth Arroyo Utterback
This WWOZ New Orleans Tricentennial Moment was made possible with support from these sponsors: