Published on: April 19th, 2017
WWOZ Piano Night is coming Monday, May 1! The 29th edition of Piano Night is subtitled "Back to the Roots" and for good reason. This Piano Night will be a return to the original concept: solo pianists, playing one at a time on the main stage at the House of Blues. Get your tickets now.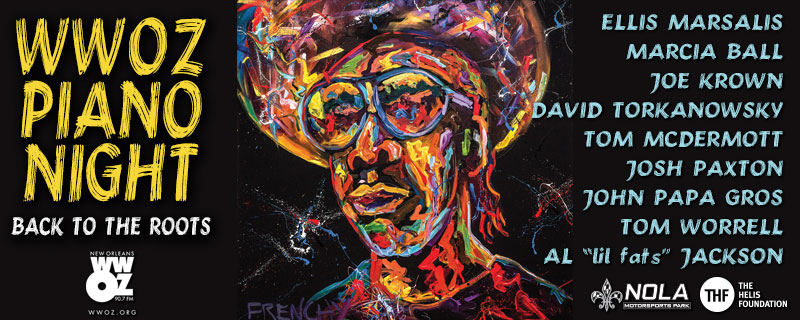 As usual, Piano Night will feature a great line-up of players, each of whom is a torch-bearer of the New Orleans piano tradition. They include Ellis Marsalis, Marcia Ball, Joe Krown, David Torkanowsky, Tom McDermott, Josh Paxton, John Gros, Tom Worrell, and Al "Lil Fats" Jackson.
In anticipation of this sure-to-be fantastic evening, we're previewing some of the performances to come! This feature focuses on Tom Worrell, an accomplished pianist who has performed with the likes of Johnny Adams, Deacon John, Marva Wright, Mem Shannon, Walter Wolfman Washington, and Solomon Burke. His recording experience includes appearances with The Wild Magnolias and The Professor Longhair Foundation Presents Piano Night at Tipitina's C.D.
Check out Worrell's tribute to one of Fess's greatest songs, 'Tipitina,' at WGNO late last year below. He'll also be performing live at WWOZ on Thursday, April 20 around 3p. You can watch that set on our Live Video stream page.