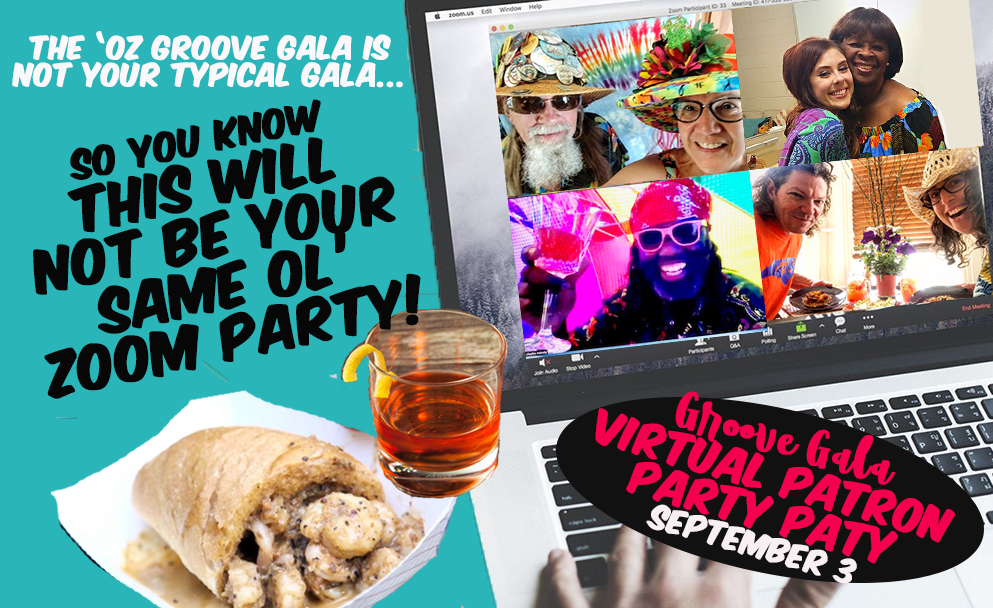 You are cordially invited to rub virtual elbows with musicians, DJs, and your fellow Guardians of the Groove from around the world! The WWOZ Groove Gala Virtual Patron Party happens on ZOOM, 6-7pm CST (during the hour before the Virtual Groove Gala).
WWOZ is no ordinary radio station, so you know this will not be your ordinary Zoom. The WWOZ Groove Gala Virtual Patron Party is our first-ever (and hopefully only) virtual patron party. While the Virtual Groove Gala and Festing in Place - The Next Fest Thing are FREE for the entire world to join in, this Zoom party is a ticketed fundraiser for the station and we want you to be in on the action!
What should you expect from this WWOZ Zoom Party?
Catch up from Groove Gala performers Irma Thomas, John Boutte, Kermit Ruffins & Amanda Shaw **Musicians will be here to Zoom like the rest of us - tune into the Virtual Groove Gala at 7pm CST to catch their performances!**
YOU can submit questions for our musician guests
There will be surprise guests popping in
Zoom chat managed by 'OZ Music Director Murf Reeves
COSTUME CONTEST: Your fellow Zoom guests will be the judge - who's has the best Fest attire and Fest at Home setup?!
RAFFLE: all guests will have their names tossed in a hat to win WWOZ Festival Chairs (they recline!)
It's a WWOZ Zoom…. Expect the unexpected!
OPTION: Dress code: sun hats, Bayou Wear, how ya gonna clap? neck koozies. Many of our Patron Party guests will be seen by everyone on screen throughout the evening - so you best be dressed to impress with your best Groove Gala / Festival attire! Check photos from past Groove Galas in 2018 and 2019. 
OPTION: Food from Dickie Brennan & Company: What's a party without food?? Dickie Brennan & Company have generously hosted the Groove Gala at Tableau in the past and we could not be more grateful for their support! This year, they rose to the challenge and have created a special menu of festival-inspired fare for 'OZillians to enjoy during the Groove Gala (or any of The Next Fest Thing). Pre-order you food for New Orleans Pickup here. Chef Dickie Brennan will be zooming with us to share tips for the kitchen.
ZOOM DETAILS: You do not need a Zoom account to participate, but if you're not familiar with the Zoom platform already, it wouldn't hurt to practice with it. **On the morning of Wednesday September 2, guests will receive an email from WWOZ with your Zoom link and password to access our Patron Party.!**
The Party will start at 6pm CST, however guests will be able to log into the Zoom beginning at 5:40pm CST to confirm their connection is ready.
Email Melanie@WWOZ.org with any questions. We can't wait to Zoom with you!