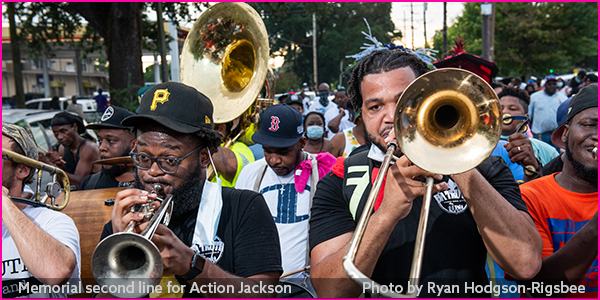 In the AUGUST 2021 Issue of the 'OZone,
WWOZ's monthly newsletter:
In Memoriam: Charles "Action" Jackson | Fall Event Updates | Live Music in NOLA Update | Volunteer Profile: Michele Goldfarb | Summer Merch Sale Ends August 31 | Recipe: Southern Comfort Peach Jam | Quick Links
More 'OZ: Facebook | Twitter | Instagram | YouTube | Listen Live | Support 'OZ
---
Action on the mic.
Photo by Ryan Hodgson-Rigsbee

In a stretch of time that's been full of tough news, this is some of the toughest: Charles "Action" Jackson has become an ancestor at the age of 59. Action was a beloved long-time WWOZ show host, most recently of the Thursday afternoon Blues show. He was best known for his work on Takin' It To The Streets, our program celebrating New Orleans' social aid & pleasure clubs, second lines, Black Masking Indians of Mardi Gras, Baby Dolls, and brass band traditions. WWOZ listeners recognized Action from his always-enthusiastic greeting, "It's ya boy!" and everyone in the second line and masking communities knew Action. There simply aren't words to express how much we'll miss him.

» In Memoriam: Charles "Action" Jackson
---
Sign by Nan Parati.


The delta variant of COVID-19 has wreaked havoc on fall festing plans. Two new (though not surprising) cancellations of note, in addition to Jazz Fest (which will return during April 29-May 8): French Quarter Fest will not happen in October; rather, it will return April 21-24. And, we've had to cancel our Groove Gala for 2021, which had been scheduled for September 2. If you're interested in what goes into these decisions, check out this nola.com article in which Jazz Fest Producer Quint Davis explains what went into the the decision cancel Jazz Fest in October: "Safety, reality, finances."

» Quint Davis on the 2021 New Orleans Jazz Fest cancellation
---
Wendell Brunious.
Photo by Louis Crispino

Live music is still happening in New Orleans, now with mask and vaccine requirements. Per the city, attendees of indoor shows (and outdoor shows with attendance greater than 500) must wear masks and provide a COVID-19 vaccination card or proof of a negative COVID-19 test taken within 72 hours of entry. (Some New Orleans venues--d.b.a., Tipitina's, and the Maple Leaf--had already established these safeguards some weeks ago). Our Livewire Music calendar lists plenty of shows for vaxxed-n-masked to enjoy this weekend, like the Preservation All-Stars featuring Wendell Brunious on Friday and Shannon Powell on Saturday at Preservation Hall.

---
Samantha Fish.
Photo by Michele Goldfarb

WWOZ volunteer Michele Goldfarb goes way back with the station: she's been tuning in since 1981, having discovered 'OZ on the car radio during a visit to New Orleans for Jazz Fest. A few years ago, Michele started volunteering, first on the phone banks during membership drive, and then as a photographer. Michele thrives in our busy environment and says, "I love, love meeting the other volunteers and the WWOZ team of staff and DJs, learning from them while working together to be sure a beat is not dropped during the many activities happening at once. The bonus, of course, is to hear the musicians play in the studio and listen to the interviews as they are happening, as well as being with the other volunteers." We so appreciate Michele for donating her time and ongoing efforts to WWOZ!
---
| | |
| --- | --- |
| | Summer is winding up, and so is our Summer Merch Sale, which ends August 31. In the meantime, we're happy to offer a selection of WWOZ merchandise to listeners who want to show off their WWOZ pride and help us spread the good word about the station! In order to keep prices low and print quality high, we've selected three top-selling vintage WWOZ shirt designs to make available this summer. Shirts will be printed in once-a-month batches, so please expect a delivery time of at least several weeks. |
---
Southern Comfort Peach Jam
Photo by Denny Culbert

Here's a way to use ripe summer peaches. Interestingly, the (pureed) peach skins are included, as they add balance from the tannins, much like you'd get from wine, and help temper all the sugar. And then there's the 100-proof version of Southern Comfort (created by New Orleans bartender Martin Wilkes Heron in 1874). This recipe is courtesy of Chef Isaac Toups of Toups Meatery in Mid-City.
---