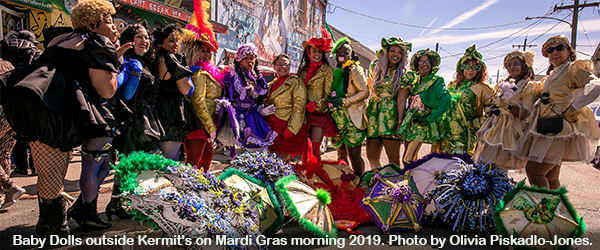 In the JANUARY 2021 Issue of the 'OZone,
WWOZ's monthly newsletter:
Celebrating Danny Barker | WWOZ Celebrates Mardi Gras and You're Invited! | In Memoriam 2020 | WWOZ Hosts' Favorite Recordings of 2020 | Volunteer Profile: Wendell Barnes and Joiya Phillips | Recipe: Grapefruit, Arugula, & Avocado Salad | Quick Links
More 'OZ: Facebook | Twitter | Instagram | YouTube | Listen Live | Support 'OZ
---
Don Vappie streams Sat, 1/16.
Photo by Keith Hill

It's Danny Barker Week on WWOZ, so we've been doing special programming since Monday. And, on Thursday, January 14, the Danny Barker Banjo & Guitar Festival begins! This year (of course) the event will be virtual, and WWOZ is partnering with the festival to bring their audience and our audience a space to celebrate this special musician. Each interview and performance can be viewed at Danny Barker Festival's Facebook page, WWOZ's Facebook page, or WWOZ's YouTube channel. Videos will remain available on Facebook and YouTube after they stream. Radio broadcasts will be available after-the-fact on our 2-week archive.
---
Big Queen Ausettua Amor Amenkum in 2012.
Photo by Ryan Hodgson-Rigsbee

No parades or street celebrations this year, but WWOZ is committed to bringing the joy of Mardi Gras to New Orleans and our worldwide audience! Every carnival season, it's a tradition for our volunteer show hosts to provide a soundtrack for the celebration, especially during the final seven days culminating on Mardi Gras Day (February 16 this year) itself. Our hosts break their format rules, and each brings you a party their own way, with everything ranging from Mardi Gras anthems to Mardi Gras Indian music, from brass bands to the sounds of carnival celebrations around the world. So keep your radio on WWOZ 90.7 FM and wwoz.org, as our show hosts bring you the sounds you need to make your own Mardi Gras, wherever you are.
---
Ellis Marsalis.
Photo by Ryan Hodgson-Rigsbee

New Orleans lost many great artists and culture bearers in 2020. With smaller funerals, no second-lining, and no traditional send-offs, it has been very difficult for the community. Those we lost in 2020 include 5th Ward Weebie, Robert Parker, Lucien Barbarin, Henry Gray, Black n Mild, Ellis Marsalis, George Brock, Big Al Carson, Tony Allen, WWOZ's Brother Jess/The Midnight Creeper (Jesse Hathorne), Alfred Uganda Roberts, Tami Lynn, Big Queen Kim "Cutie" Boutte, Fred Parker (Chocolate Santa), Ronnie Kole, Reverend John Wilkins, Jimmy Thibodeaux and many, many more.
---

---
| | |
| --- | --- |
| | WWOZ's show hosts have compiled lists of their favorite recordings from 2020! Before we get too far into the new year, take a minute and let in-the-know music mavens help you catch up on amazing tunes that you might have missed. |
---
Wendell Barnes and Joiya Phillips
Photo by Maryse DeJean

Volunteering at WWOZ is a Phillips Family tradition! If you received an OZ mailing in an enchanting hand-decorated envelope, chances are that Wendell Barnes and Joiya Phillips were the artists. Look at the lower left-hand corner of your envelope and if you see the initials 'w b' or 'joyy', then you do have a little treasure from these siblings residing in New Orleans' Lower Ninth Ward! Wendell, 19 years, and Joiya, 16 years, are continuing a long tradition of dedicated family service to WWOZ started by their uncle, Collins Phillips III in 2004. Collins' younger brother Aristide followed, and then came Wendell and Joiya's siblings Jai and Jyra. Shelia Phillips, mother and grandmother of the clan coordinates the envelope decorating sessions and inspires some of the themes. Both Shelia and her husband Collins Phillips, Jr. have volunteered consistently at WWOZ for the past 17 years. Theirs is often a behind the scenes effort, but today we're proud to pull back the curtain to shine a light on this beautiful New Orleans family to say "Thank you!"
---
| | |
| --- | --- |
| | Gulf coast citrus is in season and it's most excellent! In this recipe we use beautiful pink grapefruit in a salad with avocado, arugula, and romaine, but you could use any raw greens you like: watercress, spinach, bitter greens (escarole, endive, frisee), etc. The dressing is a vinaigrette-style but uses grapefruit juice in place of vinegar as the acid. |
---