Mardi Gras 2016 happens on February 9 
 Mardi Gras 2016 Gets Rolling
The 2016 carnival season kicked off on Twelfth Night, January 6. In addition to the Phunny Phorty Phellows streetcar ride, the occasion was marked by the Krewe de Jeanne d'Arc's annual procession through the French Quarter. The first weekend of big parades, January 30-31, is also in the book. Muses, Endymion, Bacchus, & Fat Tuesday are on the way!
 Fat Tuesday Video Stream
It's been another terrific Carnival season in the Crescent City.   If you can't be out and about, check our live video stream from various Mardi Gras day locales. 
Mardi Gras Videos
We've put together a playlist of some Mardi Gras videos to help get you in the Carnival mood. Amongst them are music videos (Al "Carnival Time" Johnson, the Neville Brothers), footage from parades long past (1941 and 1956), and last year's "greasing of the poles" ceremony.
Mardi Gras Parades
It's almost time to roll! 
Check out some of 2016 Parade Schedules we like: mardigrasneworleans.com and mardigrasparadeschedule.com.
Carnival Wisdom from Our Show Hosts
Here's a few Carnival-related blogs by our show hosts, from seasons past:
--Sam Cammarata with advice on How to survive Mardi Gras.
--Jelly Roll Justice on the Saint Anne's parade.
--Bill de Turk's King Cake cocktail.
Mardi Gras Play List
While you're busily sewing, fashioning, and (inevitably for those last minute scragglers) stapling and glueing, what music puts you in the mardi gras mood? We'd love it if you would take a few minutes to Add to our Mardi Gras Play List!
Alternative Fat Tuesday Krewes
Pete Fountain's Half-Fast Walking Club. French Quarter
Societé de Saint Anne. Marigny/French Quarter
Krewe of Elvis. French Quarter
Krewe of Cosmic Debris. French Quarter
Krewe of the Living Dead. French Quarter
Mardi Gras Indians
Many New Orleanians get in shape for Carnival by attending weekly Mardi Gras Indian practices held at several clubs around town.
One of the most popular is the Unified Mardi Gras Indian Practice at Handa Wanda's, 2425 Dryades Street, every Sunday evening.
Learn more about the Mardi Gras Indians:
» Listen to Ronald Lewis of the House of Dance and Feathers, a museum devoted to Mardi Gras Indian culture in the Lower Ninth Ward. 
» Listen to Big Chief Howard of the Creole Wild West Mardi Gras Indians as he talks about this quintessential New Orleans tradition.
» Listen to Big Chief Bo Dollis Jr. of The Wild Magnolais Mardi Gras Indians talking about his tribe, the Dollis family, and the Wild Magnolia funk band.
» Visit the Backstreet Cultural Museum
» Visit the Mardi Gras Indian Hall of Fame
» Listen to a Street Talk story about the Wild Mohicans Mardi Gras Indians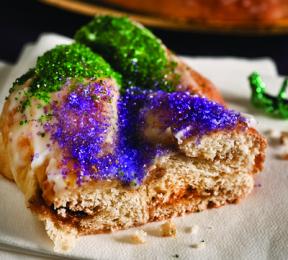 King Cakes
King Cakes are an old tradition brought over from France and eaten from Epiphany through Mardi Gras, although these days King Cake is brought out  for all sorts of celebrations, including black-and-gold themed King Cakes! Gambino's Bakery, Haydel's Bakery and Randazzo's Camellia City Bakery are three of the most popular bakeries in the city, but almost every grocery or bakery has their own twist on the treat. Learn more about the history of king cakes.
Want to make your own King Cake? Check out our recipe from Louisiana Cookin' or give your hand a try at Emeril Lagasse's version.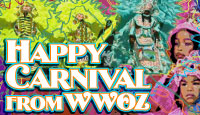 Mardi Gras Around the World
Send in pictures and stories about Mardi Gras in your hometown to feedback@wwoz.org and help bring your own Mardi Gras experience to the universe.
The Honky Tonk Jazz Club in Dendermonde, Belgium is bringing Mardi Gras for the first time to their city. The virtual krewe, Verti Gras, is asking New Orleanians to make miniature floats across the world and show them off via photos and video. A couple of Lousiana natives started the Mystic Krewe of Nimbus in Portland, Oregon and are having their fourth Carnival Ball this year.
Check out Mardi Gras celebrations in Mobile, Alabama ; Salvador da Bahia, Brazil; Trinidad; and around the world.