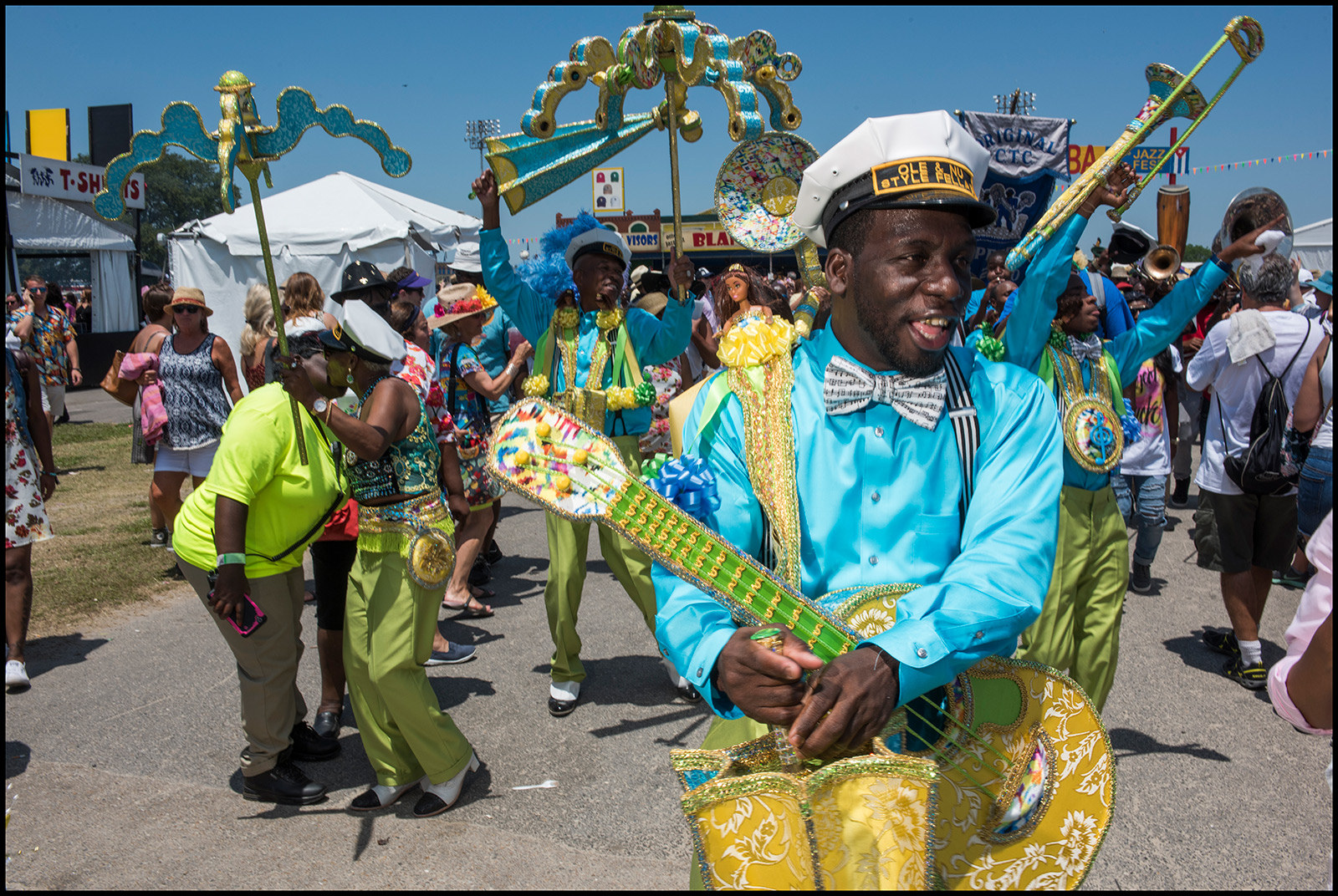 Ole & Nu Style Fellas at Jazz Fest 2017 [Photo by Ryan Hodgson-Rigsbee]
START CTC Steppers SAPC @ Treme Center (900 N. Villere St.). Up N. Villere to Dumaine. RIGHT on Dumaine St. to Claiborne. RIGHT on Claiborne.
STOP Kermit's Mother-In-Law Lounge (1500 Claiborne Ave). Continue on Claiborne Ave. to St. Bernard Ave. LEFT on St. Bernard Ave. to Aubry St.
STOP Dumaine Street Gang SAPC @ Seal's Class Act (2619 Aubry St.). Out Seal's to St. Bernard Ave. LEFT on St. Bernard Ave.
STOP Ladies of Unity SAPC. Up St. Bernard St. RIGHT on N. Rampart. Up N. Rampart to Barracks Street. RIGHT on Barracks Street.
STOP Sudan SAPC @ Lil People's (1226 Barracks St). Up Barracks Street. RIGHT on Treme Street to Esplanade Ave. LEFT on Esplanade Ave. to N. Robertson. LEFT on N. Robertson.
Holla At My People Candlelight ounge (925 N. Robertson St). Up N. Robertson to Orleans Ave. RIGHT on Orleans.
DISBAND Joker's Wild Play House (Justines)
In the player below, hear our interview with Ole & Nu Style Fellas' Askia Bennett as he discusses how the pandemic has impacted the club, their ongoing school supply drives, what it takes to be a part of the club, the best part of the parade, and more!
Update Required
To play the media you will need to either update your browser to a recent version or update your
Flash plugin
.