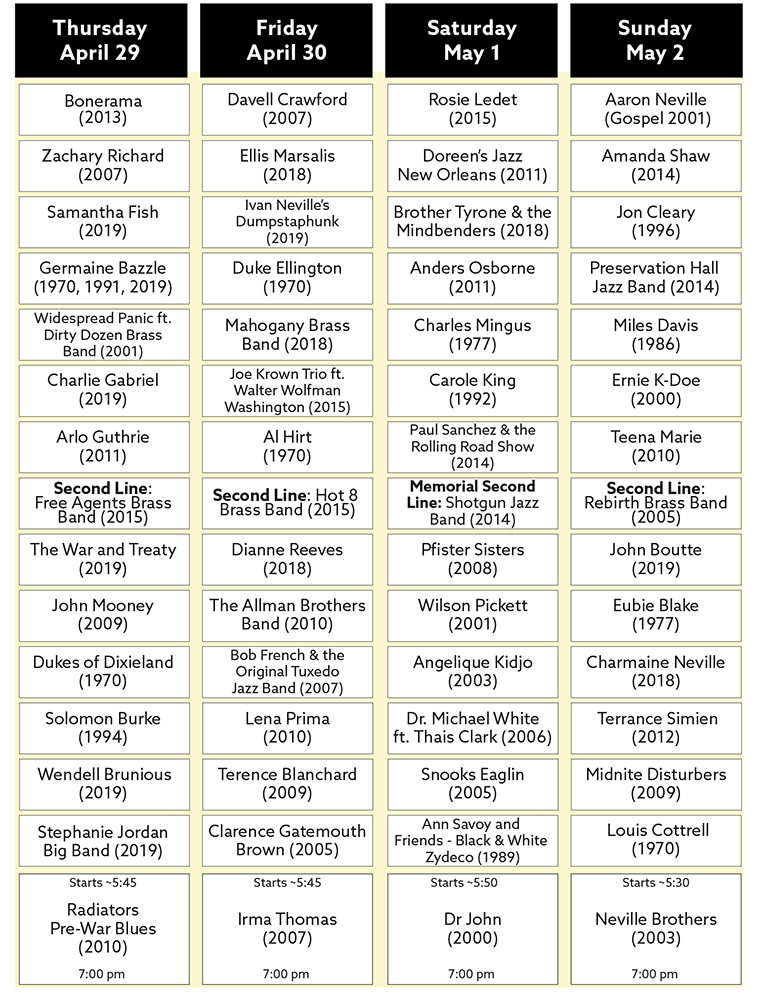 Additional support provided by our Drum Roll sponsors:
John and Anna Beth Goodman
Kelly Law Partners. Based in Denver and practicing all over the country.
In honor of everyone's wonderful Mamma Leslie Cooper
Randy Smith and Smith & Fawer, Attorneys at Law
Ellie & Bruce Wainer
Maura Sylvester & J Pegues
Where Y'art - an online gallery featuring over 100 New Orleans visual artists
Wednesday Trad with Michael from 9-11
The Cahn Family Foundation
Bo Cooper and Family - with thanks to 'OZ for all the music and joy
Bob Edmundson
Pam, Greg, Quentin, and Wilson from Brooklyn, NY
Linda Hill
From Penny Warriner in loving memory of her late husband, Bobby Matthews
Undergrowth Coffee at 4332 Magazine Street
Roux Bee Platt - the dog who loves NOLA
Mary in Los Angeles planning to meet up with friends when Jazzfest resumes
Daniel Dreher and sustainablehandprints.com
Grateful supporters of WWOZ, who are not sure what or who they were before finding 'OZ in 2013
The Good Food Store & Smoking Good BBQ in Bethel, Maine
Nurse Desiree
Bo McDonald
Michael, Jennifer, and Daisy Longfield
Candace Sirmon and Cindy Cimino
Judge and Mrs. Sidney Cates
In loving memory of John Pearson and in honor of culturally supportive parents everywhere
In appreciation of Gentilly Jr, Black Mold, and all the show hosts in between.
Hugh Stiel and Royal Frenchmen Hotel Bar in the Marigny
Bob Brudd
Wild Doctor Bill, streaming 'OZ while travelling
Nancy Lasher and Jordan Hamowy
Kathleen Edmundson in honor of Bill Deen
Mik Morales and Miller Manor Guest House, St Thomas, US Virgin Islands"
Kelly and Chris LeBato
Ginger & Lola your Chicagoan Ozillians...who remain Guardians of the Groove now & forever
In loving memory of Vivian Blackwell from Nancy, Todd, and Ella Grace
David Conrad of The Osage Nation
Mark Rochon
Uptown Will, T-Boo Boo and Belle Michelle
Emma, Alexa and Siena Pegues
Valerie & Lyell Dampeer
Another awesome New Orleans tradition: WWOZ - the greatest music on the planet
Dr. Ann's Autism Specialists
Scene By Rhys Fine Art owner and operator
Dr. Quinton Miner at Lakeview Endodontics
In memory of Missy Crane Worden from her YAs
Casey Lipscomb
Geoff Isles
Goldfarb Financial - Socially Conscious Investing
Cheryl and DJ Tom Roche
Jeff and Susan Unruh
Art and Eyes on Magazine Street
"Busta" & the rest of the H2O Boys
And Lady Giff
Doerr Furniture - New Orleans and Covington
MJ's Home Team at Urban Vision/Keller Williams New Orleans
Erica and David Garcia
The Layfield Law Firm, LLC with offices in Baton Rouge and Marksville
From Lazy Daisy who loves Jazz Festing in Place