Saturday, October 31, 2020 - 2:00pm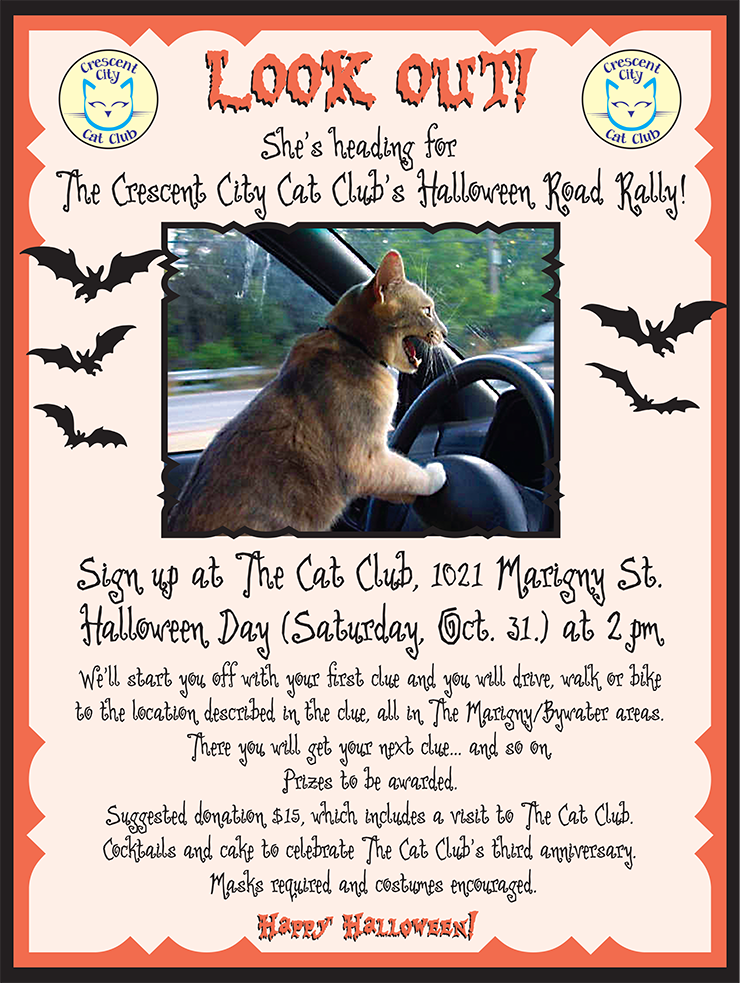 The Krewe of Crazy Cat Ladies is organizing a road rally for Halloween Day to benefit The Crescent City Cat Club.  Registration is at 2 PM.  Masks are required and costumes rewarded.  Covid-19 precautions such as social distancing and using multiple routes for the rally will be observed.  Participants may choose walking, biking or driving.  After registering, each team (of 1-5 people) will be given a clue and take off on their adventures.  They will proceed to the first stop by guessing the location described in the clue.  At each stop they will get a clue to the next stop.
The rally will finish at The Cat Club (1021 Marigny St.), where prizes for best costume and first entrants back will be awarded.  There will be cake!  and champagne to celebrate the Cat Club's three years of rehoming cats and providing hours of feline "therapy" to our visitors.  They have helped hundreds of cat-lovers and cats and kittens find each other and live happily ever after.  All felines at The Cat Club are rescues from local shelters. The Cat Club provides a homelike atmosphere where they live and hang out and entertain their visitors. It is a cat cafe without the food.
The Krewe of Crazy Cat Ladies is also using this opportunity to make folks aware of other small businesses in the area that are open and ready for their trade.  There is a small entry fee which includes a visit to The Cat Club either the day of the event or at some later date.
For additional information please contact Eshyah Selig at 504-410-4646 and eselig1@cox.net.