Published on: October 20th, 2019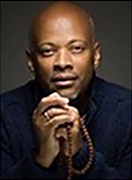 WWOZ volunteers and staff are saddened by the news of Donn Peabody's passing on October 19. Donn joined WWOZ as a volunteer in June 2015. We immediately put him to work during special events and used his mellifluous voice on the airwaves.
When we complimented Donn on his radio voice, he was quick to relate how Ellis Marsalis helped him overcome speech problems he had as a young boy. That constant expression of appreciation and positivity made meeting Donn Peabody special and remarkable for everyone who met him.