Mahalia Jackson was born in New Orleans, and grew up singing in church, at the Mt. Moriah Baptist Church in the Black Pearl neighborhood uptown. As a teenager she left the city, but her remarkable voice will be forever woven into its music and history.
Mahalia moved north to Chicago when she was 16, and sang in churches there. She was pressured to sing secular music, but she refused. She performed in many churches, and toured singing gospel music. She made some recordings and had a little success.
And then in 1947 she recorded 'Move On Up A Little Higher.' The record sold eight million copies. 
Eight million copies -- and it reached so many more people than that.
It became the biggest gospel single in history. 
Mahalia's popularity kept growing. In the coming years, she would appear at Carnegie Hall, on the Ed Sullivan Show, and headlining international tours. She even had own gospel program on the radio. And she still only sang gospel.
By the 1960s, Mahalia Jackson was a significant voice in the Civil Rights Movement. She befriended Dr. Martin Luther King, Jr., and at Dr. King's request, she sang at the March on Washington in 1963.
Some even credit her for inspiring his famous 'I Have A Dream' speech, which he delivered right after Mahalia finished performing. 
In 1970, Mahalia returned home to perform at the first New Orleans Jazz & Heritage Festival at the Municipal Auditorium.
She passed away less than two years later.
Mahalia's voice changed the face of American music, empowered the Civil Rights movement, and brought herself a renown that lasts almost fifty years after she left us, not just in New Orleans. Not just in America. But across the entire world.
The narrator for this feature is the Soul Queen of New Orleans, Irma Thomas. Irma is a living legend who remains committed to her New Orleans roots and performs regularly at festivals and events around town. In addition to her many soul and R&B hits in her decades-long career, Irma has released a number of traditional gopsel albums. She is a Grammy Award winner and nominee multiple times over. Irma has performed a gospel set at Jazz Fest every year since 2007. She received an Honorary Doctorate from Tulane University earlier this year, and recently received a Lifetime Achievement Award from the Americana Music Honors and Awards. Irma is also an official WWOZ Guardian of the Groove.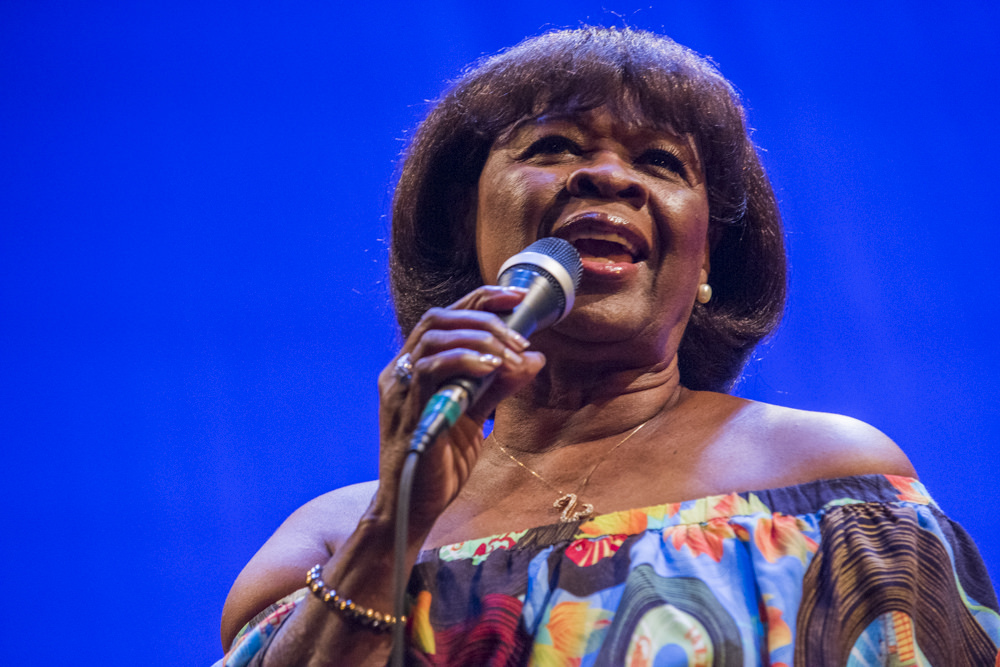 Irma Thomas performing at the WWOZ Groove Gala on September 6, 2018 [Photo by Ryan Hodgson-Rigsbee]
This WWOZ New Orleans Tricentennial Moment was made possible with support from these sponsors: