In 1960, Harold Battiste, Jr. was twenty-nine years old and an accomplished saxophonist, composer, arranger, and producer. He was one of many ambitious and gifted New Orleanian musicians of his generation who left the Crescent City to pursue higher-paying careers in other places -- in his case, working as a talent scout and arranger for record companies, eventually winding up in Los Angeles.
Harold kept close ties to his home back in New Orleans, though. In 1960, he took a train trip back to visit relatives. On that train trip he sat dreaming of starting a record company back home: a company for and by New Orleans musicians, making money for the musicians themselves instead of out-of-town label owners in suits.
By coincidence, when the train stopped in El Paso, Texas, Harold's friend Earl King got on board. He'd scored a huge hit that year with the song 'Trick Bag,' recorded for Imperial Records. Harold described his revolutionary label idea to him, for the first time ever. And Harold was encouraged enough to move forward.
And so began All For One Records. It was founded in 1961, after Battiste had relocated back to New Orleans. 
The new label, called AFO for short, was a collective, completely owned by New Orleanian African-American musicians, including Harold, Chuck Badie, Alvin Red Tyler, Melvin Lastie, and more. They set up shop at the corner of Claiborne and Orleans Avenues, and quickly secured funding for production and distribution.
AFO made an immediate contribution to jazz history by recording some of the first non-traditional New Orleans jazz, with acts like the Ellis Marsalis Quartet, and the American Jazz Quintet, which featured Harold with Ellis Marsalis, Alvin Batiste, Ed Blackwell, and Chuck Badie. The compositions released on AFO albums in that era are legendary, and marked a high point for contemporary jazz in New Orleans.
And AFO had immediate commercial success, with their second single release ever, "I Know (You Don't Love Me No More)" by Barbara George. It went to Number One on the R&B charts and Number Three on the Pop charts.
During a golden age for New Orleans music, AFO Records seemed like a crowning achievement.
But then Barbara George defected to another label. And by 1963, Harold Battiste had moved AFO to Los Angeles, hoping the new locale would reinvigorate the business. By 1964, the label was on hiatus, and Battiste was moving into the next phase of his career -- he became Sonny & Cher's musical director, and he was also busy in the studio as a producer, turning a young man named Mac Rebennack into a character called Dr John.
AFO faded for a while, but after Harold returned to New Orleans for good in the late 1980s, it came back for a second act, recording acts like Germaine Bazzle and Victor Goines, as well as a new generation of young jazz players. 
All For One Records had its ups and downs, but for Harold Battiste and hundreds of other New Orleans musicians, it showed that it could be done, and it could work. And it set an example for more to follow.
For more, check out AFO Records on WWOZ's A Closer Walk: Interactive New Orleans Music History Map. 
This feature's narrator is John Goodman. John is a highly acclaimed TV, film, and stage actor. He is best known for his role as Dan Conner on Roseanne, as well as his roles in The Big Lebowski, Raising Arizona, Barton Fink, and O Brother Where Art Thou. He also voiced "Sully" in Monsters, Inc., and has starred in dozens of other films throughout his career. John has been a supporter of WWOZ and New Orleans music and musicians for many years. He is a WWOZ Guardian of the Groove, a title given to those who play a significant role in preserving and enhancing the culture of New Orleans.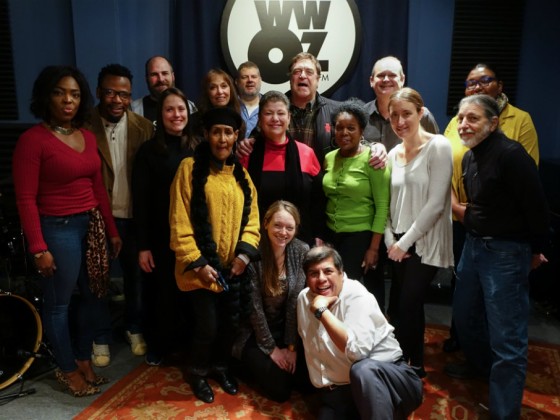 John Goodman with WWOZ staff
This WWOZ New Orleans Tricentennial Moment was made possible with support from these sponsors: