In 1984, New Orleans hosted a World's Fair. In preparation for tens of thousands of visitors from across the world, the city's famous French Quarter underwent extensive street and sidewalk repairs. But all that construction work had a heavy impact on local businesses.
In an effort to bring foot traffic and business back to the Quarter, something called French Quarter Fest was born. The first French Quarter Fest lasted three days and took place on six stages on Bourbon Street and near Jackson Square. Performers included Allen Toussaint, the Dirty Dozen Brass Band, Luther Kent, Connie Jones, and Chris Owens. Plus, there was a 5k run, a breakdancing contest, and all kinds of dance performances. Ed McMahon served as master of ceremonies for the very first Battle of the Bands.
Food became a hallmark of French Quarter Fest, too. In that first year, famous restaurants like Tujagues, Desire Oyster Bar, and the Court of Two Sisters set up shop on the streets alongside Pat O'Briens, Mrs Wheat's Pies, and Trey Yuen Chinese. The festival was completely free.
Only a few hundred people attended that first French Quarter Fest back in '84 -- but it was successful enough to do it again the next year, and it got a little bigger. And the next year, too.
It's now 35 years old, and one of the biggest free music festivals in the country. Over 1700 musicians are performing this year, on 23 stages. Over 700,000 people are expected to attend. And that Battle of the Bands? It's still going on, down on Royal Street, at French Quarter Fest.
This feature's narrator is Norman Robinson. Norman has been a part of the journalistic landscape in New Orleans since 1976. In June 2014, he began a well deserved retirement, after 38 years on television in the Crescent City. He spent the past 24 years anchoring the 6p and 10p newscasts at the NBC affiliate, WDSU-TV. He also served as the moderator of WDSU's award winning Hot Seat broadcast, which has held politicians and policy makers accountable since Hurricane Katrina. Norman also joined WWOZ's Board of Directors at the end of 2017.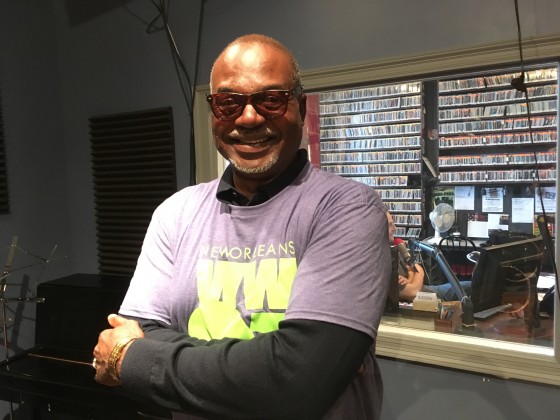 Norman Robinson at WWOZ