For Irma Thomas, 1964 was a time of triumph, and it made her a star. Her first album was released that year and it included her biggest hit single ever. But Irma's actual victory was something more.
In 1959, Irma Thomas was working as a waitress at the Pimlico Club in Central City, where they called her "the waitress who could sing." The club's bandleader, Tommy Ridgley, noticed her talent and made some introductions. Soon she was recording a track called 'You Can Have My Husband But Don't Mess With My Man.' The song was a local R&B hit, which was great for Irma -- she was pursuing a music career because it was her best option to support her family, which included four children. She needed to make it. She moved forward, working with Allen Toussaint and putting out one single after another on Minit Records but they only made it to the regional charts.
When the national label Imperial bought Minit Records, and Irma made her first full album. It was called Wish Someone Would Care and it put her on the national pop charts. The album included 'Please Send Me Someone To Love,' 'Breakaway,' the immortal 'Time is On My Side,' and her highest charting hit ever, 'Wish Someone Would Care.' The song was a masterpiece of soul, and a deeply personal statement for Irma. Radio listeners across the country heard the impassioned plea of a young woman bearing a heavy burden alone, hiding her pain with a smile. And so, in 1964 Irma Thomas was a star.
Her achievement was special; she wasn't driven by starry eyes. She was a woman who needed to support her family, so she used her musical gifts to build a career in the male-dominated industry. Irma still performs, in New Orleans and around the world. She's played the New Orleans Jazz Fest & Heritage Festival every year since 1975, and has hosted her annual Mothers' Day concert for over three decades. Her voice remains perfect and distinctive, and she's still down to earth and relatable. She is still, and will always be, the Soul Queen of New Orleans.
This feature's narrator is Angela Hill. Angela was a journalist at WWL-TV New Orleans for nearly four decades. She was the first female anchor for the station, hired in 1975. Between 1975 and 2013, she co-anchored the 5p, 6p, and 10p broadcasts. From 1989-1996, she hosted The Angela Show, a daily talk show on which she welcomed guests from the worlds of entertainment, fashion, music, and politics. She produced international documentaries and has won a Gabriel Award, a Gracie Award, and a Freedoms Foundation Award, among others. Angela has been close friends with Irma Thomas for decades.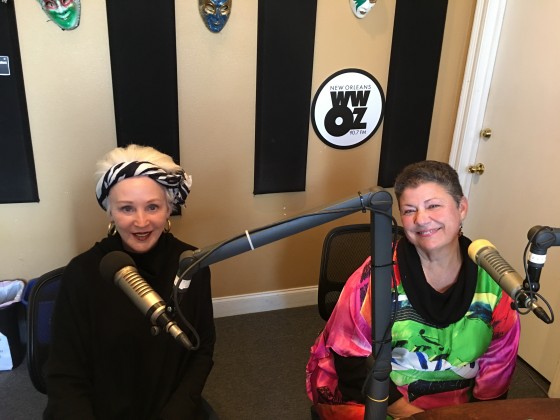 Angela Hill with WWOZ General Manager Beth Arroyo Utterback
Learn more: 
Know Louisiana
Irma Thomas on motherhood
Shocking Omissions: Irma Thomas, 'Wish Someone Would Care'
Irma Thomas, the Soul Queen of New Orleans
Jazz Fest Database
This WWOZ New Orleans Tricentennial Moment was made possible with support from these sponsors: