Once upon a time, a young boy in New Orleans known as Little Louis watched the Zulu Social Aid & Pleasure Club parade through the streets at Mardi Gras.
Louis was excited because he knew many of the Zulu members from around his neighborhood.  And he saw the King of the parade. He dreamed that one day he would be King of the Zulus.  
Fast-forward to 1931, and "Little Louis" was now the world-famous trumpeter Louis Armstrong. "Little Louis" was made an honorary member of Zulu. Zulu was still going strong, providing social aid to community members in need, and counting as its members some of the most influential black leaders of the day.
But it was in 1949 that Louis' dreams finally came true, when he was invited to reign as King of the Zulus for Mardi Gras.
"I have traveled all over the world and no place I've ever been could remove the thought in my head that someday I will be the King of the Zulus," Louis Armstrong said. And so, on Tuesday, March 1, 1949, the most famous New Orleanian returned for Mardi Gras as a King. Louis Armstrong and the Zulu parade rolled and thousands of citizens welcomed him home by jamming the streets for hours, and shouting for coconuts until the Zulu King's float broke down. It was abandoned to the crowds at the corner of Orleans and Prieur.
Louis had to escape into a limousine -- which isn't a bad way to escape. The press coverage of that Mardi Gras was huge, and brought international fame to Zulu. Magazines around the world featured Louis Armstrong as the "Zulu King."
But the next day the Zulu King was gone, and Louis was just plain old Pops again, playing on tour in Jackson, Mississippi. After all, it was Ash Wednesday and Mardi Gras was over for the year.
This feature's narrator is John Goodman. John is a highly acclaimed TV, film, and stage actor. He is best known for his role as Dan Conner on Roseanne, as well as his roles in The Big Lebowski, Raising Arizona, Barton Fink, and O Brother Where Art Thou. He also voiced "Sully" in Monsters, Inc., and has starred in dozens of other films throughout his career. John has been a supporter of WWOZ and New Orleans music and musicians for many years. He is a WWOZ Guardian of the Groove, a title given to those who play a significant role in preserving and enhancing the culture of New Orleans.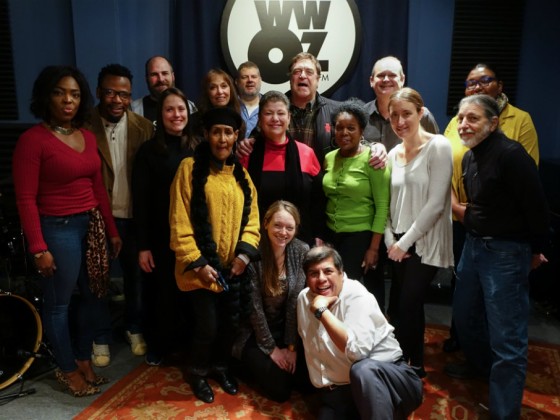 John Goodman with WWOZ staff
This WWOZ New Orleans Tricentennial Moment was made possible with support from these sponsors: