In April of 1928, a jewelry shop owner in the small town of Rayne, Louisiana, caught wind that the Columbia was visiting New Orleans to make records. The jewelry store owner knew two popular local musicians whose records he wanted to sell and there were no recordings anywhere of their kind of music, so he put locals Cleoma Breaux and Joe Falcon in his car and drove the 150 miles to New Orleans. 
Cleoma and Joe were definitely different from other people making records. They sang in French, and made a lot of music with just two instruments: one guitar and one accordion. In order to convince Columbia Records to record them, the store owner ordered 500 copies in advance.  
The first track released was called 'Allons à Lafayette.' It was the first commercially recorded Cajun song, and it sold quite well.
In fact, it sold so well that Columbia Records invited Cleoma and Joe to record again but this time, in New York City. Cleoma and Joe were on their way to national fame, in a genre of music that had previously only been known regionally.
Other Cajun acts began to be recorded, too. But Cleoma and Joe weren't just the first, they were some of the very best.
Cleoma was supremely talented, and she was one of the few women of the day who played in public. She had mastered the guitar and fiddle at a young age, and performed with her brothers around their hometown of Crowley in the 1910s and 20s. Together, Joe and Cleoma were considered among the greatest Cajun accordion players ever. Cleoma's guitar and singing, combined with Joe's accordion playing, set a standard for Cajun music that still stands today.
Not only did they set a standard and bring Cajun music to the world at large, they got married a few years later! The descendants of the Breaux and Falcon families carry on their legacy to this day: accordionist Jimmy Breaux of Beausoleil, swamp pop singer Johnnie Allan, and accordion builder Randy Falcon are a few of their family members who carry the torch.
Cleoma died in 1941, at 34 years old. Joe continued to play local dance halls into his 60s, but he never recorded again.
This feature's narrator is Amanda Shaw. Amanda is a Cajun fiddler who has been dazzling audiences since she was 4 years old. Amanda's award-winning music and high-energy performances with her band, The Cute Guys, produce a unique balance of mainstream harmonies with grassroots charm. She continues to master her technique by putting a personal Louisiana twist on performances at festivals and events around the world – locally, regionally and internationally. With regular appearances at iconic events like French Quarter Festival and Jazz Fest, Amanda has become a crowd favorite and a festival staple. Amanda's musical talent and charismatic personality strike a chord with fans of all ages.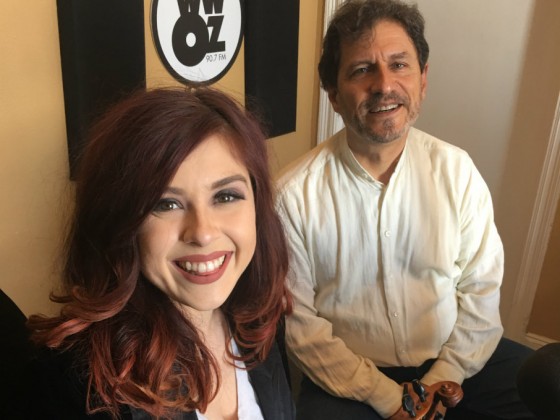 Amanda Shaw with WWOZ Cajun and Zydeco Show co-host Charles Laborde
This WWOZ New Orleans Tricentennial Moment was made possible with support from these sponsors: