In the middle of New Orleans, there's a green space on Perdido Street, beside Duncan Plaza. No marker, just some parked cars.  But about a hundred years ago, it was the site of one of the most important moments in jazz history.
Louis Armstrong was about four or five years old, living with his mother at the corner of Liberty and Perdido, just a couple steps away from a building that stood right here. That building was the Union Sons Hall. Sunday mornings it served as the First Lincoln Baptist Church. But come night time, the Union Sons Hall was the home of jazz bands, and they called it Funky Butt Hall.
The nickname was from a song called 'Funky Butt,' the best known number by trumpeter Buddy Bolden, who played here in those days. The words of the song are about somebody making a stink, and having to throw open a window. And at the Funky Butt they had to open the windows, when the crowds were dancing to the Buddy Bolden band.  
Buddy was the first King of Jazz, and he was at the peak of his fame. He played loud -- so loud people said you could hear him across the river. So with the windows open, young Louis Armstrong could hear Buddy playing, night after night after night.
There are no known recordings of Buddy Bolden. People who heard him said he played loud and rough, but he was also called the sweetest trumpet player in the world. He was one of the original creators of jazz. He had charisma, women fought over him, and the crowds loved him. 
It didn't last. By June of 1907, Buddy was committed to a mental hospital. He spent the rest of his life there, and never played publicly again.
Time went by, the Funky Butt Hall lost its nickname, and people forgot about Buddy.  Union Sons Hall became a full-time church, and in the 1950s the whole neighborhood was torn down to put up government buildings, including New Orleans City Hall, which is right across the street
But Louis Armstrong never forgot what he learned by listening, night after night, through those windows they had to throw open at Funky Butt Hall.
This feature's narrator is Norman Robinson. Norman has been a part of the journalistic landscape in New Orleans since 1976. In June 2014, he began a well deserved retirement, after 38 years on television in the Crescent City. He spent the past 24 years anchoring the 6p and 10p newscasts at the NBC affiliate, WDSU-TV. He also served as the moderator of WDSU's award winning Hot Seat broadcast, which has held politicians and policy makers accountable since Hurricane Katrina. Norman also joined WWOZ's Board of Directors at the end of 2017.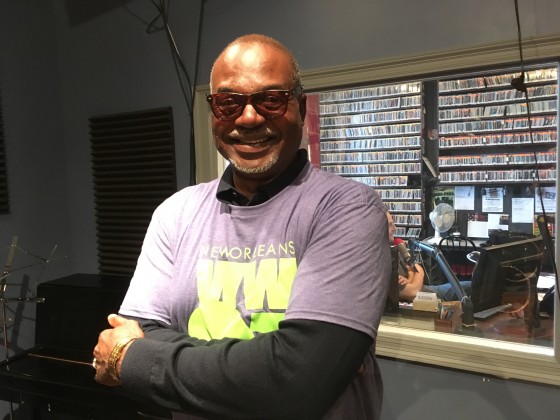 Norman Robinson at WWOZ
Further Reading:
A Closer Walk: Union Sons Hall (a.k.a. Funky Butt Hall)
This WWOZ New Orleans Tricentennial Moment was made possible with support from these sponsors: