Published on: September 19th, 2022
This is a Thai-style curry made with green curry paste, which you can make yourself (recipe below) or buy in store. 
The recipe calls for canned coconut milk, which is widely available in the Asian (and Latin) sections of grocery stores. If you've never used it, you'll find that it separates in the can into two distinct layers: watery liquid at the bottom and solid white cream at the top. Stir to recombine before using.
You can easily add a veggie or two if you like. Snow peas and bamboo shoots are classic choices, but other options work, like red bell pepper in slivered strips that cook quickly. You could use any veggies that are young and tender or sliced thin for quick cooking.
Use any kind of rice that you like. The big flavors work well with brown rice, if you're so inclined.

1 can unsweetened coconut milk, 14 oz, in two parts
3 tablespoons green curry paste (see note above & recipe below)
1 onion, sliced very thin
1 pound shrimp, peeled, deveined, and at room temperature
1 tablespoon brown sugar
1 tablespoon fish sauce
1 tablespoon soy sauce
A handful of chopped basil, cilantro, and scallion tops
Salt to taste
Rice 

Prepare a batch of your favorite rice.
Open the can of coconut milk and stir to recombine (see note above). In a sauce pan, bring about half of the coconut milk just to boiling over medium high heat. 
Stir in the green curry paste, reduce heat to medium, and bloom in hot coconut milk for a minute or two. Add the onion and cook, stirring, for 2-3 minutes.
Add shrimp and cook for one minute or so, or until the shrimp turn pink.
Stir in the brown sugar, fish sauce, and the rest of the coconut milk.
When curry begins to boil, stir in optional vegetables (see note above), reduce heat and simmer for 2 more minutes, taking care not to overcook the shrimp.
Taste and adjust seasoning, adding a bit of salt if needed.
Remove from heat, then stir in the chopped basil, cilantro, and scallion tops.
Serve immediately.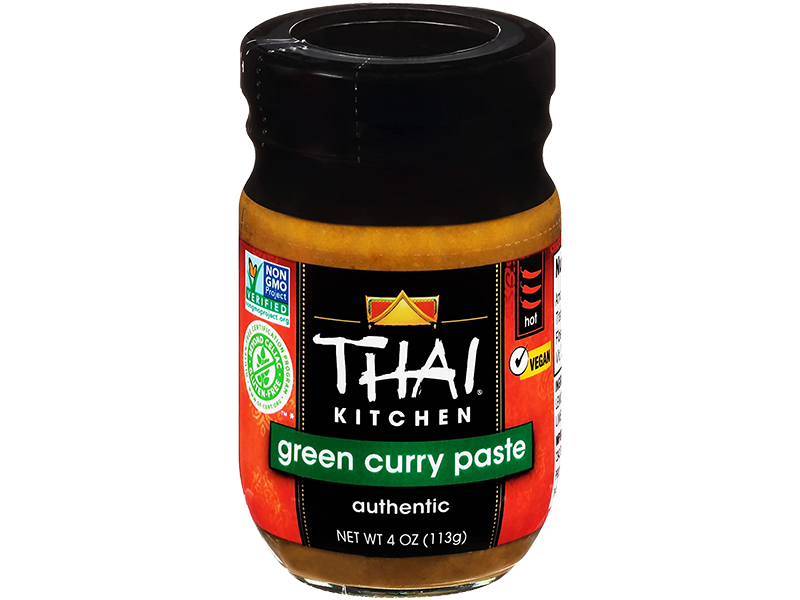 Green curry paste:
1 tablespoon ground coriander
1 teaspoon ground cumin
1 teaspoon salt
1/2 cup chopped fresh green chiles
1/4 cup cilantro leaves
1/4 cup chopped scallions 
3 tablespoons chopped garlic
3 tablespoons chopped fresh lemongrass
1 tablespoon minced ginger
Add everything plus a couple tablespoons of water to a blender. Blend until mostly smooth. Remember to scrape down the sides of the blender, and add a little more water if needed to get a smooth texture.
Store in a jar in the refrigerator for several weeks.  Or freeze in 1 tablespoon increments (an old ice cube tray dedicated to the purpose can be helpful).