The 2021 Groove Gala has been cancelled.
Thank you for your interest in coming out to celebrate and support WWOZ!
If you purchased a ticket, please check your email inbox for options and information,
or email melanie@wwoz.org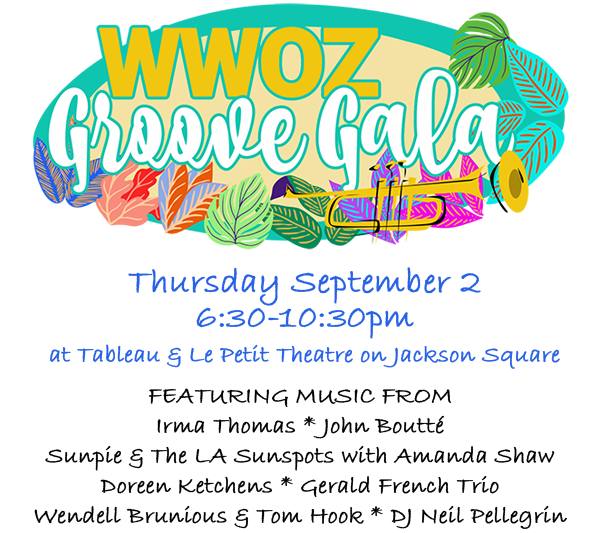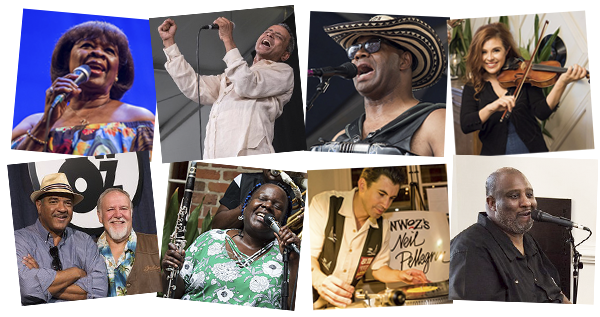 This is not your average gala!
This benefit for WWOZ will take place on Thursday September 2 at Dickie Brennan & Company's Tableau - located on Jackson Square in the heart of the French Quarter. This is not your average gala! It's a one-of-a-kind indoor festival to support this wonderfully unique radio station we all love! We'll have music on three stages around Tableau with food and drink flowing, head over to Le Petit Theater for the mainstage show, and then back into Tableau for an 'OZ DJ set and dessert bar. Don your festival attire and come celebrate the fall festival season with WWOZ and your fellow 'OZillians!! Mark your calendars! Lineup and ticket information to come!
Join us in your favorite festival attire to celebrate WWOZ (leave your tuxes and your gowns at home)! The Groove Gala will be in full swing from 6:30-10:30pm on Thursday September 2, 2021.
Catch music at three Groove Gala Fest Stages spread over two floors of Tableau and in the Courtyard
Revel in fine flavors of gourmet food provided by Dickie Brennan & Company's Tableau restaurant
Enjoy beverages from four open bars
It's a festival, so of course, we'll have WWOZ Mango Freeze
All of this before heading into Le Petit Theatre for the Main Stage Showcase
Wrap up the night with dessert and dancing to WWOZ DJ Neil Pellegrin
Thank you to our hosts and sponsors:

Groove Gala Chairperson: Bruce Wainer
Groove Gala Patrons: Bruce & Ellie Wainer, J Pegues & Maura Sylvester, CMC Drywall, Major Services, Judge & Mrs. Sidney Cates, and LaPorte CPAs & Business Advisors
Would you like to sponsor the Groove Gala?
Email melanie@wwoz.org for more info on WWOZ Groove Gala sponsorship opportunities.
Every Groove Gala ticket purchased is a gift to WWOZ that helps keep our turntables spinning and New Orleans music fans grooving the world over.
Thank you!
---
Support WWOZ and the Groove Gala by purchasing a Groove Gala Fine Art Print!
These art pieces were created for the 2018 and 2019 Groove Galas by New Orleans artists Isabelle Jacopin and Ceaux. Both images are giclee prints on watercolor paper, signed by the artist. Click on the images below to take you to our Groove Gala print store.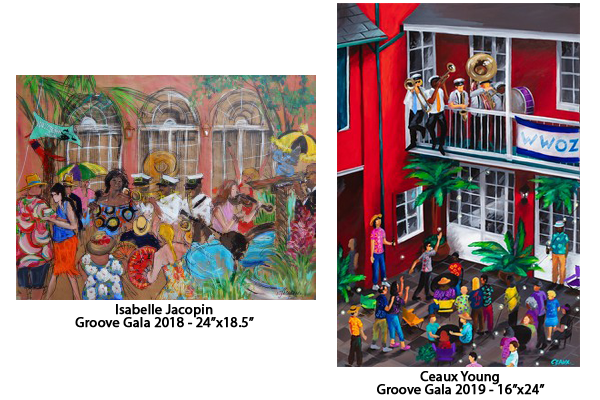 Ceaux Young at ceauxartwork.com
---
A few photo highlights from the 2019 Groove Gala: