Thank you for making the 2019 WWOZ Groove Gala a tremendous success! 
Support WWOZ and the Groove Gala! The artist Ceaux created the gorgeous piece of art below for the 2nd Groove Gala. It's available in a limited edition run of 125 giclee prints - all signed, numbered and titled by the artist himself.
Media: Giclee on watercolor paper   |    Dimensions: 16" x 24"   |     Limited Edition of 125 prints signed by the artist.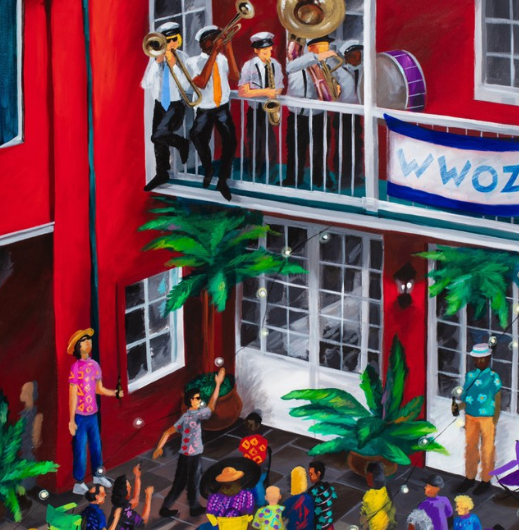 You can also still get last year's inaugural Groove Gala print by Isobell Jacopin.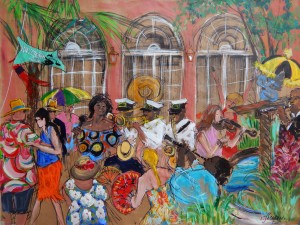 ---
About the 2019 WWOZ Groove Gala:
Performers included
Irma Thomas, Lena Prima, Amanda Shaw, Storyville Stompers, Doreen Ketchens, Gerald French, John "Papa" Gros and Al "Lil' Fats" Jackson
There was:
Live Music on the three fest stages around Tableau from 6:30-8pm
Beyond fine festival fare from Dickie Brennan's Tableau + open bars + Mango Freeze
Main Stage Showcase in Le Petit Theatre at 8pm
All followed by dessert and dancing to DJ Brice Nice
Come dressed in your best fest attire (think comfort: sun hats, BayouWear, tie dye, How Ya Gonna Clap koozies)
*NEW THIS YEAR*
Dickie Brennan will be hosting the Groove Gala Oasis on the third floor of Tableau. Guests able to join us for this VIP experience will be treated to a special menu and wine pairings personally selected by Dickie himself, plus intimate live music performances upstairs and reserved seating for the Main Stage Showcase in Le Petit at 8pm.
 
*           *           *           *            *           *           *           *
A few photo highlights from the 2018 Groove Gala: